Discover more from Frankie Tease
Cults in the news. Cult Madness News is reports from a variety of sources by the Frankie Files Podcast host and writer Frankie Tease and Hot Takes of a Cult Kid Podcast.
Lalas Burlesque: Naughty Rock Barbies, As Seen on TV
a show review by Frankie Tease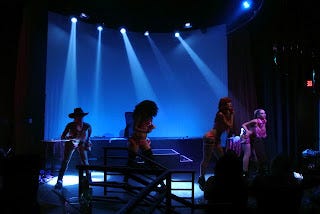 Let's get it straight. The Lala's (Los Angeles) aren't trying to be anything but their own style of Burelsque, and they use American Rock N' Roll as the vehicle it's couched in. The troupe is all about fun, as is their show which I caught Saturday August 25, 2012 at the Palms Lounge in Las Vegas. The ingredients needed to be a Lala? A gorgeous body, your own TV credits and successful dance career, sexiness, a sense of comedy, and a little bit of irony. Producer Choreographer and Creator Erin Lamont started the contemporary burlesque collection of star dancers on a whim after visiting a bar in Manhattan Beach, CA. for a Burlesque Show. Erin turned to her husband (early 2011) and said "I can do that". 
Yes, she could and has done it. With degrees in Marketing and Dance, Lamont's credits are fairly astonishing, including: CSI, Miss Universe, People's Choice Awards, Disney, AMC, Playboy... wait, Playboy? There is the connection to the Palms Hotel and Casino. That explains how the Lalas's L.A.-based burlesque troupe hopped into the Palms Lounge rotation (about a 300 seat lounge) for two stints of Friday and Saturday double shows in July and August. 
Can Erin Lamont make a small stage experience do what she does on TV? Probably. Yet, as an audience member, I was amazed at the inordinate amount of time that the Lalas spent in the audience during their 70 minute dance and strip show (to recorded music). Coming into the audience is fairly unconventional by Las Vegas standards, probably because the audience longs to see its subjects well-lit and on stage. If you are a choreographer, set designer, or producer, you might have a tough time sitting through the background-less, prop-less at times, portions of the Lala's burlesque show, which feels more like an experiment, than an actual polished Vegas stage production. That doesn't mean it isn't fun. 
The troupe's appearance at this 11pm show included Host and Performer Tonya Kay and Dancers: Ashley Dixon (AMA's, DWTS, MTV VMA's), Saraanne Fahey (New Girl on FOX, CSI: NY), Chantel Gonsalves (Nip/Tuck, The Grammys), and Donna Hood who played a deleriously delightful role as the maid and "pick-up-artist". Wood cleaned-up the stage between numbers -sort of- and later did her own solo. By some math if you merge 60's Rock N' Roll (mainly) with burlesque and stripping, you would get what you have at the Lala's show: clothing and props literally everywhere, all over the stage, between numbers, and into the next one - at times to the point of distraction (no stagehands were seen).
When asked if the show changes routines or choreographed numbers from each appearance, Lamont replied "The show changes - oh - about 10-20% per performance. I have a rotating cast of beautiful awesome professional dancers, so their schedules are always changing as well. I like the challenge of creating new solos, groups, and switching the order around. It also keeps the girls on their toes literally and figuratively as well." This may keep it fresh, but it did make some of the less-polished numbers stand-out from the really fun solid ones. That the "rhythm nation" style choreography with two, three, or four dancers, wasn't often in-sync should be mentioned because I don't believe having nudity in a show should take away from discipline of the choreography.
The stand-out dancer and star-performer was Tonya Kay (Glee, House MD, Numb3rs, Idol, AGT, Criminal Minds, Tonight Show with Conan O'Brien) who does a power-tool number with all the comedic timing and sexual innuendo possible - and brings some of the most classic and innovative ideas to her several acts. She has an amazing body that one works for, and it shows. Even if you are a die-hard neo-burlesque or classic burlesque purist, you will love what you see in Tonya Kay. If you enjoy the joke of gender, you also will enjoy Tonya Kay. Now, if you are a lover of American-style dance, Jazz, or contemporary American stripping (knuckle-bitingly sexy), you will love the lines, style, and body of Saraanne Fahey, who's dance-extension will give you a shiver, and who's classic body-lace ripping routine would make Malice (L.A./Portland) proud. Fahey backed-up Tonya with stand-out solos, and her dance form was always a pleasure to watch.
If you don't care about burlesque and love lots of skin-revealing pastie-clad topless-ness, no worries- the Lala's bring that set to a soundtrack of blues, rock, and American music (two Janis Joplin songs in a row at one point). At times, the show will be downright racy, so it's not for the skittish. The group in the front row got all the chair dances, nudges, a shot of tequila, and pulled onstage for the audience participation moment, where Tonya Kay made people do stuff and wear her wardrobe too (they were from the Pacific Northwest). You may want to get there early to ensure a good view, as some portions of the round stage may be obscured by the metal handrail right in front of stage right.
When asked for the Lala's next Vegas appearance Lamont said "We are coming back to Vegas, yes. The date is TBA. I am taking a month to regroup and amp-up the costumes, change some choreography, and keep developing new antics!" When asked what vintage burlesque elements she draws from for the stage show  Lamont stated "The Lalas are a modern day burlesque group - but looking at the roots of how burlesque began, it first and foremost had a comedic element. That is my main inspiration. The more the audience laughs, the more I know that I'm doing 'burlesque' justice. Dance is such a subjective art and inspiration is drawn from everywhere. Putting beautiful women on stage in amazing costumes, doing a 'tease' as well as being absolutely hilarious - it makes me love burlesque more and more every time I see it."I wondered if the Lala's were named from the coloquial I had heard growing up "Lala Land" referring to L.A. Not exactly. "Lala" was a college nickname a teacher gave Lamont when there were three other Erin's in her class.

The show's draw is the star-studded dance level that you will see in each individual, as seen on TV. Lamont also successfully includes a lot of sexy comedy, and who couldn't use more of that? Most people would just relish the chance to spend up-close time with the gorgeous TV stars that make up the Lalas. Make sure and note however that you won't see any tasseling or pin-curls in this show, it's completely modern.

The Lalas are awaiting the launch of the Lalas Application and  their new Vegas Palms dates. Tickets were $30 for the Lounge Show. View more about the stunningly beautiful cast of dancers in the Lalas troupe rotation at http://thelalas.com, and view the Lounge schedule at Palms.com.

Story and photos by Frankie Tease

Story permalink http://www.frankietease.com/2012/09/lalas-burlesque-naughty-rock-barbies-as.html



© 2012, frankietease.com. All rights reserved. All content copyrighted or used with permission. This content may not be distributed, modified, reproduced in whole or in part without prior permission from frankietease.com.