Discover more from Frankie Tease
Cult Madness News, Frankie Files Podcast, Hot Takes of a Cult Kid Podcast, by Frankie Tease, writer & Morningland #LongBeachCult adult child survivor.
LA Comedy Club Keeps Going and Going and Going, Las Vegas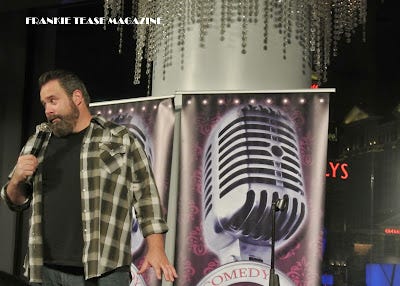 Shawn Halpin Headlined LA Comedy Club 6/20/13 
Photo by Frankie Tease
Joaquin Trujillo and Matt Chavez have had the LA Comedy Club (Las Vegas) brand since 2007. In those six years they have danced through many worthy venues in town, always keeping a great lineup of local, regional, and national talent. Why else would they be able to pull off six shows a week? It all started at Palace Station, moved to Trader Vics and when Trader Vics closed down, they went on to the Four Queens for two years downtown, then moved back to Cabo Wabo to reclaim their spot (same spot at Trader Vics, different operator). Now it's traversed to Bally's. Trujillo stated "We are kind of a hybrid, we cater to tourists, but we have always catered to locals as well. They always get a two for one ticket price, and we issue special tickets to locals who have always supported us when we invite them on down". It's also worth mentioning that they have an all-you-can-drink special at every show. Be sure to check that out. On a side note, these guys also handle all the broker relations and brand management for Chippendales, they're busy.
I found parking at Bally's fairly easy, though newbies may get confused as neighboring Paris Hotel shares parking with Bally's. No worries though, just follow the signs. For your information, the LA Comedy Club is situated upstairs near the front of the building so you could conceptually park elsewhere and have easier access. 
I joined the forming cue outside the club, where a gorgeous woman walked the line offering tickets for those who hadn't 'already obtained them. An usher took each patron to their seat, while exceptional service and a bar in the lobby of the showroom is available if you just can't wait. 
The showroom started to fill up on that Thursday evening and the show started pretty much right on time. Our Host for the evening was Hawaiian Comedian David Lee. Lee brought out jokes and stories of Asian people coming up and telling him what race he was, and trying to bond with him, even though they wouldn't believe he's not Lao, but Hawaiian. He did a short set for us, then moved on to his three comedians who'll play all six shows for the week.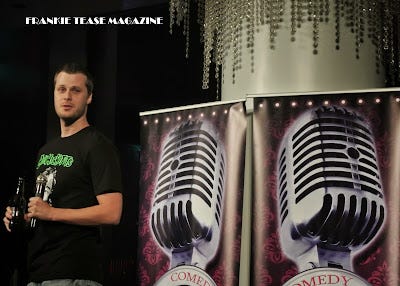 Brandon "Gooch" Hahn Keeps Rockin in Vegas
Photo by Frankie Tease


JP McGuire, was the opener, and told stories about his son and daughter saying "My daughter is gay, so now both kids are bringing home hot girls". We moved to  the Feature Comedian and local long-time favorite Brandon "Gooch" Hahn was up. Aside from hosting a radio show on KOMP locally five days a week, Gooch gets around, performing for over a decade in Vegas. Young, t-shirt and jeans wearing, and very good looking, he surfs through topics like nobodies business, from sports, to relationships, to current events. Sporting raunchy and clean jokes, what's amazing about Gooch is his ability to go into the audience with such ease, and continuity, creating a really personal experience for those in attendance.  He did this over ten times and I lost count. Who was next? And even if he didn't interact with them long, he treated the audience like pop up gophers in that arcade game where you pound them as they emerge, hitting a different seat every few minutes. Gooch doesn't miss a beat, when doing it. It's the sign of someone so prepared, so polished that you can sit back and enjoy the ride. "The New York Jets were like the Jews to Jesus" is one quotable gem I took away. Definitely keep this guy on your radar, if you like to laugh-cry.
The headliner was Shawn Halpin for this stint, and he was a soft and cuddly bear with a beard, who started by joking about his appearance, and wound that into his ever relatable set. At one point "She said my dick looked like a button on a fir coat" he stated, joking about his hairiness. He wound through his set and what was most notable was his comfort in feeling out the audience as he went. This wasn't the same set he did all the time, that was apparent. "We should just have a lock-in, do some meth, and everyone has to have sex with someone else" he stated "What? nobody's down for that?" Halpin went on to do some racial jokes saying "There is only one black person here, I guess we can start the meeting" and to talk about what it's like living in LA. It should be mentioned that Halpin hosts "Full Count Podcast" with Mike Faverman via shawnhalpin.com, and is delightfully funny. My makeup was running after his set.
The beautiful showroom which has been the new home of the LA Comedy Club for six months features an all-windows backdrop overlooking the strip which is stunning. The show's balance includes local and national TV and stage comedians. Fun and well-booked, I would highly recommend the weekly lineup, and who wouldn't? It's being run by people that know exactly what they're doing, and they've been keeping locals and tourists happy for a long time doing it. Congrats on the new location guys, nice pick.
LA Comedy Club is dark Mondays with shows at 9:30pm, doors at 9pm, Tuesday through Sunday at Bally's Hotel on Flamingo and Las Vegas Blvd. on the 2nd floor. Prices start at $29.95 and can be purchased via TheLAcomedyclub.com or www.ballyslasvegas.com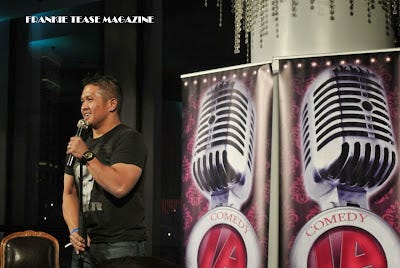 Host: David Lee photo by Frankie Tease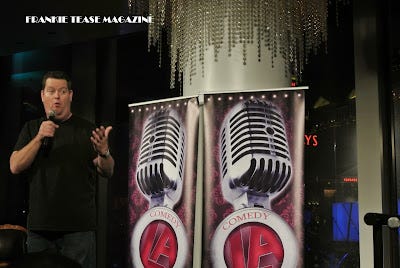 PJ McGuire photo by Frankie Tease
Related Links:
http://www.flickr.com/photos/missfrankietease/sets/72157634344551758/ 
shawnhalpin.com
https://twitter.com/yourbuddygooch
http://thelacomedyclub.com/buytickets.html


See our in-depth interview with Comedian Brandon Gooch Hahn in "The Best of Frankie Tease Magazine" ebook at http://www.frankietease.com/p/ebooks.html



© 2012, frankietease.com. All rights reserved. All content copyrighted or used with permission. This content may not be distributed, modified, reproduced in whole or in part without prior permission from frankietease.com.