Discover more from Frankie Tease
Cults in the news. Cult Madness News is reports from a variety of sources by the Frankie Files Podcast host and writer Frankie Tease and Hot Takes of a Cult Kid Podcast.
Jay Leno - Aces of Comedy Headliner throughout 2012 - Vegas

Jay Leno has had a long lucrative career and a long happy marriage. Those are two things you don't see in Hollywood very often, especially paired. Jay's self deprecating 'chin' humor along with his quirky voice, dyslexia, and lisp cemented his style of humor on stage first along side the likes of Freddy Prinz Jr. His comedy in the 70's before his late night hosting duties began, consisted of east coast west coast jokes, and clean but suggestive observational humor. He has always been known for thinking well on his feet and making whoever is in front of him the punch-line of the current joke or bit. He can lay into the audience like the best of them, and is a frequent practitioner of roasts like on his five day per week TV show 'The Tonight Show with Jay Leno' where the opening monologue is no less than a roast of whoever is topping news charts that day. 
Selected weekend dates through March-October of 2012 Leno will be appearing in Vegas and present himself untelevised and unabashed. This show is presented as a part of the Aces of Comedy. Terry Fator Theater at the Mirage Hotel and Casino, 10pm various Mar.-Oct. 2012 dates. $59.99-$79.99 702 792-7777 or 800 963-9634, Mirage.com.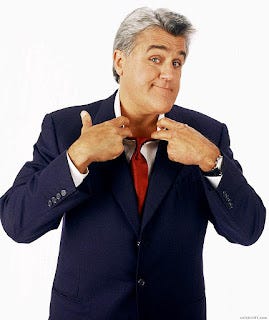 Photo by Celebs101.com
© 2012, frankietease.com. All rights reserved. All content copyrighted or used with permission. This content may not be distributed, modified, reproduced in whole or in part without prior permission from frankietease.com.