Discover more from Frankie Tease
Cults in the news. Cult Madness News is reports from a variety of sources by the Frankie Files Podcast host and writer Frankie Tease and Hot Takes of a Cult Kid Podcast.
Interview Bites with Frankie Tease: Masuimi Max at Viva Las Vegas 15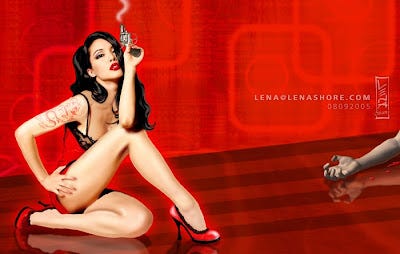 As I wound my way around the Viva Las Vegas 15 car show Saturday April 5, 2012 (Las Vegas Orleans Hotel) I approached the Pin-Up Girl Clothing Boutique Model Lounge, where Masuimi Max and other amazing models were available for photos and autographs with fans. The line wound around the pink and white tent, because this woman has both men and women fans all over the world who admire her. I jumped in and fought off her fans long enough to get a very brief audio interview, and this is what the international fetish pin-up model, who looks haute in latex, had to say about the Viva Las Vegas 15 Rockabilly Weekender, and her long love affair with the camera.

FT: What is your favorite part about Viva Las Vegas?
MM: The people. Everyone is so excited. They're here to have fun. They're not here for any drama. They're here to dress up, listen to good music, meet people, and have fun. That's what life is really about.
FT: I've seen you do Burlesque in Portland, but how long have you been into the rockabilly scene?
MM: Let's see, I was 18 in 1996. My first photo shoot was with Mamie Van Doren by Julie Stray, so I've been in this a while.
FT: So Mamie is one of your inspirations? 
MM: Yes. Mamie Van Doren, Betty Page of course. The art of Olivia is what turned me on to these people. I lived a very sheltered life, my parents were very religious.
FT: All the suppressed girls have the fun later in life.Thanx for chatting with me Masuimi Max. 
© 2012, frankietease.com. All rights reserved. All content copyrighted or used with permission. This content may not be distributed, modified, reproduced in whole or in part without prior permission from frankietease.com.