Discover more from Frankie Tease
Cult Madness News, Frankie Files Podcast, Hot Takes of a Cult Kid Podcast, by Frankie Tease, writer & Morningland #LongBeachCult adult child survivor.
Frankie Moreno is 'Damn Sure Here to Stay' - Las Vegas Interview and Show Review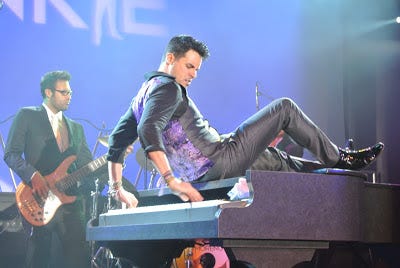 Tony Moreno, Frankie Moreno, photo credit: Mark Knopf

This article was originally published in "The Best of Frankie Tease Magazine Vol.2" during 2013, via iTunes, Amazon, Nook.
Frankie Moreno (35) is a Father, brother, and musical star who is becoming a household name in Vegas and around the world. His talent is on showcase four nights a week, one show a night, at the 300 seat remodeled showroom atop the Stratosphere Hotel. The showroom has a lot of booths and feels spacious. The 1148 ft. hotel (9th tallest free standing structure in U.S., tallest in Vegas) has just celebrated with Moreno the show's one year anniversary Nov. 19. The success of the show is a milestone and followed the release of his self-titled album Sept. 19. 2012 is proving to be a big one when you add his spectacular three minute appearance on Dancing with the Stars (ABC) Oct. 9th. Moreno garnered a whole new group of music fans when he performed his own song "Tangerine Honey" combined with "Wild One" along with dancer and choreographer Lacey Schwimmer (who made the introduction of Moreno to producers). To say the least, the man stays busy. But he and his band have been wowing crowds for over a decade in Vegas, this just seems like the next stage of the evolution of an icon.
© 2012, frankietease.com. All rights reserved. All content copyrighted or used with permission. This content may not be distributed, modified, reproduced in whole or in part without prior permission from frankietease.com.