Discover more from Frankie Tease
Cult Madness News, Frankie Files Podcast, Hot Takes of a Cult Kid Podcast, by Frankie Tease, writer & Morningland #LongBeachCult adult child survivor.
For Ms. Redd, the Viva Las Vegas Rockabilly Weekender Burlesque Competition is Personal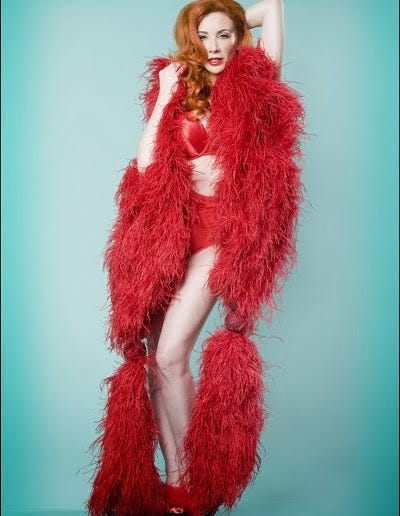 Ms. Redd (LV) by Holly West, (LA)
Ms. Redd has a vintage look and style that hearkens to Ann Margaret and Liz Taylor, in that she's classy, yet smoldering. She has a name for herself in print pinup magazines mostly by her alias Ms. Redd. We met up at a class being given in Las Vegas by Jo Weldon January 2013, though I'd followed her on various social media sites and youtube for at least a year. I wondered and asked her if I could follow her as an artist and subject in a two part interview leading into her entrance as a contestant into Viva Las Vegas 16's Burlesque Competition (the winner to be crowned Miss Viva Las Vegas 2013), and do a follow-up interview on how it all comes out as well as attempt to cover her experience the Saturday Night in March coming up on the 30th. (Note: you need four-day pass tickets to see this contest so if you don't have them quickly visit vivalasvegas.net and secure that, then return here to read this article). When I asked Ms. Redd for the interview, I had no idea that her experience with entering this contest was so personal, but it is and I'll let her tell you why.
FT: Where were you born and raised? 
MR: I was born in Fort Walton Beach, Florida. Spent some of those summers in the Bronx, moved to LA at 13 and then came to Vegas 12 years ago.
FT: When did you first become a model, and in what capacity? 
MR: I've modeled since I was very young. I've always had a love for pinups...I would steal my father's Playboys and always loved not only the women in the magazines but the Pinup paintings from Olivia.
FT: Who was your first pin-up inspiration? 
MR: Bettie Page.
FT: What is your most well-received/famous published model photos or sessions to date? 
MR: I've been in several pinup, car, hair and other magazines. I have been blessed in that regard.
FT: What is your favorite city to travel to for work or holiday? 
MR: I love to travel, so for work....any amazing city with a spectacular stage to perform on. For Holiday, I actually love to just sit on a beach and explore.
FT: What grabbed your attention about burlesque, and who inspired you to get involved? 
MR: When I was in the 5th grade, there was a talent show for my school. I was a gymnast at the time and thought it would be fun to do a routine for the show. I audition and got a spot in the show. A few days before, I decided that I wanted to do something different than just do my regular gymnastics routine. I decided that I wanted to add some dancing to it. I already had my song "GET IT ON" by the Power Station and I borrowed my dad's taupe rain coat and his hat. I wore my leotard and leg warmers underneath. The song started, and I began to dance. I had my hair tucked up underneath the hat. I pulled the hat off and swung my long hair around. I then proceeded to take off the rain coat, playing with the belt and unbuttoning it. I even took off my legwarmers. At the end, I stood only in my leotard and on the ground in the splits. I got off the stage and was whisked quickly into the Principal's office. I was told that I was never allowed to do a talent show again. I started crying. I didn't think what I had done was wrong and was so confused by everything. They told me I was too risque, I had to look that word up in the dictionary later as I had no idea what they meant. To me, I just went up there and danced around and did what I what I did in my living room. I was crushed. To be honest, from then on anything girly I shut down and refused to do. 

Viva Las Vegas Burlesque Competition 2010 Interrupted
MR: On May 15, 2009, I performed for the first time. It was for Lily Burana's book release party ("I Love A Man In Uniform") and a benefit for Operation Bombshell. I even got introduced onstage by Diablo Cody. I did it so that I could show my friend what should be done in a Burlesque type bar, I didn't realize that the bug would bite me hard. Then, my Stepfather Frank got sick and was put in the hospital. On April 1, 2010, I was preparing for a model signing to do out at the car show at Viva Las Vegas. I stopped by the hospital to see my stepdad. He was sick but was quickly recovering. Frank and I had a very close relationship. I considered him my dad also.
I had printed up several different pinup photographs. It was just he and I sitting there going through all my photos. He then proceeded to tell me that he wanted me to pursue doing burlesque, that there is nothing wrong with it. That everything I had ever done was always done in taste and class...I shouldn't worry about what other people thought of me for it or that I loved it.

I had been telling him about the competition at Viva for burlesque...and he said to me, "you should do it!" I gave him a big hug and he promised to talk my mom off the ceiling when I would tell her I was going to do burlesque. The next morning, I went back to the hospital to visit him really quick before I was off to Viva, he passed away in front of me. It was very unexpected and sudden. I still remember everything. Losing a loved one, let alone a parent can be a very traumatic experience. Instead of participating in Viva, I was now consoling my Mother, who lost her soul mate and planning a funeral. Shock is not even a word to describe what I went into. 
In Recovery
MR: I contacted Victoria Vengeance. I spent the next six months, going to LA and working with her every day I had off here in Vegas. I did privates with Catherine D'Lish, Satan's Angel and had Lucy Fur to teach me tassels. I studied Jo Boobs's Handbook on Burlesque, every YouTube I could of certain favorites of mine, saw shows, attended Burlesque Hall of Fame. I did everything and anything I could to absorb burlesque, and to not feel the pain of losing my Frank. When applications were available to enter into the Miss Viva Las Vegas competition for 2011 (that would be a deadline of enterting by Dec.31, 2010), I entered. I got accepted and now had to back it all up. 
Entering Viva Las Vegas 2011 with the help of Catherine D'lish
MR: I have always loved Tex Avery cartoons and especially the ones of his "RED" and how sometimes she was the damsel in distress. I thought it would be a great idea to tie myself to a train track and kill the damsel in distress and be the real Red. I asked Huy Vu to make me my set, Catherine D'lish my costume and Victoria to help me with everything and anything in between. I worked my rear end off. There were days I would get off work at 5am at the nightclub, drive straight to LA, work 12 hours minimum, sleep, work another 12 hours minimum, sleep, drive straight back to Vegas and work another shift at the nightclub. My days definitely blended to say the least. On the big day of the competition, I was nervous. As this was the biggest show, and technically the third time I had performed at all in front of an audience. 
The 2011 Viva Las Vegas Burlesque Competition Performance
MR: I was to go on half way through the show as they had to close the curtains to get my prop in place. The host Scott was doing his skit while it was set up. He had an 8 minute skit....so after 5 minutes...I walked out to my tracks and hung from my wrists in preparation to start. After five minutes of hanging there, I couldn't feel my feet and his skit was going on longer than I thought it was suppose to. I started to get down, so I could get some blood to circulate back into my legs when I started to hear him announce me. I jumped back up there. My legs were shaky but I mustered up every bit of myself and performed my heart out for the audience. When it was time to twirl my tassels, I could see my Mom in the audience and I walked right up to the end of the stage and did it in front of her. She jumped up and yelled "That's my baby girl!!!" When I was done, I cried. It didn't matter to me whether or not I won or came in last, it meant the world to me just to be able to get up on that stage and do what I had discussed with my stepdad. I felt him all around me that day. I ended up Runner Up. Miss Viva Las Vegas 2011 was Inga Ingenue (she is amazing). I made some great friends from that competition. I still keep in touch with most of the girls from that show, and some have become my favorite people in the world. So, that is how I got started and what drives me.
FT: What is your favorite burlesque routine that you perform? 
MR: The one I am doing at the moment I am performing.
FT: Where has been the most exciting place for you to perform burlesque?
MR: Viva obviously has my heart as it was the place to drive me. I loved performing at Bimbo's in San Francisco and love the House of Blues in New Orleans.
FT: Do you think the vintage Viva audience is different from others? 
MR: Yes I do. I believe they want to see your heart out there, along with some bump and grind.
Ms. Redd can be found online at http://msredd.com/. Cheer her on at Viva Las Vegas 16 Saturday Night in the Showroom. Must have 4 day pass and over 21 yr. old voucher to attend. More on this at vivalasvegas.net. Read the follow up story on what Ms. Redd's experience was like entering Viva Las Vegas 16 Rockabilly Weekender Burlesque Competition in 2013 at frankietease.com during 2013. Story by Frankie Tease, photo by Holly West of Ms. Redd. Ms. Redd will appear April 13, 2013 at LIVE ART LV an event we'll be sponsoring. More on that at liveartlv.blogspot.com.

READ PART TWO OF THIS INTERVIEW
© 2012, frankietease.com. All rights reserved. All content copyrighted or used with permission. This content may not be distributed, modified, reproduced in whole or in part without prior permission from frankietease.com.