Discover more from Frankie Tease
Cult Madness News, Frankie Files Podcast, Hot Takes of a Cult Kid Podcast, by Frankie Tease, writer & Morningland #LongBeachCult adult child survivor.
Easter Weekends Will Never Be the Same - Preview of Viva Las Vegas Rockabilly Weekender 17, 2014 and a Tom Ingram Interview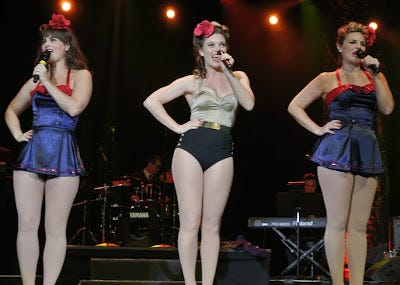 Satin Dollz at Viva Las Vegas 2013 by Frankie Tease

Viva Las Vegas Rockabilly Weekend is swiftly approaching its 17th year. The world-wide rockabilly festival that has only seen it's equal in the UK comes to the Orleans Hotel again in Las Vegas April 17-20, 2014. So many new and expanding things about this festival kept creeping up, I had to email my home town of Long Beach to reach the legendary organizer of this event directly. Tom answered and gave me some good preparatory information on what's cookin' for 2014, in addition to the return of Audrey Deluxe for all burlesque productions. He also told me the details of a new October weekender he's behind, which are contained in the Q&A below. 
FT: How did you choose this year's headliners?
TI: It is always tough choosing headliners. The old acts are not getting any younger so gradually there has to be transition to younger headliners instead of the original acts.
FT: How has the Burlesque Showcase and Competition changed this year, are they two separate producers/productions?
TI: This time they are both being organized and produced by myself and Audrey DeLuxe. The showcase will just have a strong line-up of some of the best performers. The contest is going back to the old system of audience deciding.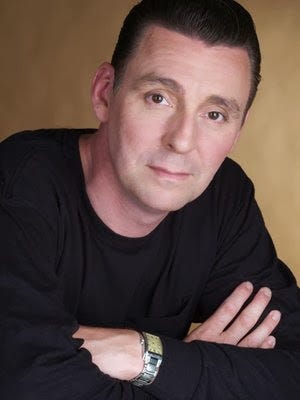 Tom Ingram courtesy of IMDB.COM

FT: What acts are you personally excited about bringing to the Viva Las Vegas stages this year?
TI: All of them.
FT: I saw you had a contest to name a new annual event you'll also be holding in Las Vegas, any details you can share about that new event?
TI: At the moment all I can say is that it will be a smaller rockabilly weekend called The Rockabilly Rockout, held at The Gold Coast Hotel October 2 -5, 2014.
Thanks Tom. Other things new this year include two stages at the Saturday concert and car show with amazing headliners like Imelda May (IRE), Los Straight Jackets (CA), and The Chop Tops (CA). Burlesque headliners include: Imodesty Blaze (UK), Dirty Martini (NY), Roxi D'Lite (CAN) and Angie Pontani (NY).  Last year 20,000 plus people attended the car show, 800 cars were on exhibit, and 10,000 plus people had four day passes for indoor vendors and bands. You can attend only the car show with a single day ticket (10-8pm) and also your four day ticket will cover this event. Many vendors come from far and wide to show their best stuff at the VLV car show, and I'm sure 2014 will be no different. In fact, there's even a waiting list to be a vendor.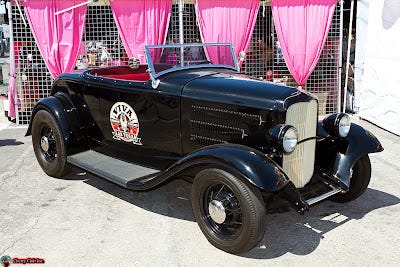 Tickets for the Viva Las Vegas Rockabilly Weekender are on sale at vivalasvegas.net and at participating retailers around the world and the Orleans Box Office in Las Vegas. 
Official VLV 17 Band line-up flyer as of 12/20/13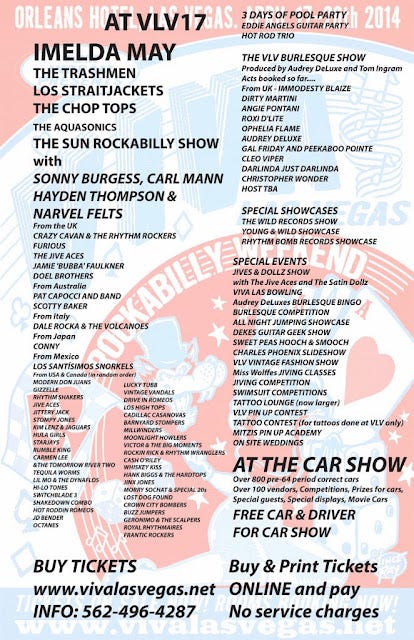 © 2012, frankietease.com. All rights reserved. All content copyrighted or used with permission. This content may not be distributed, modified, reproduced in whole or in part without prior permission from frankietease.com.