Discover more from Frankie Tease
Cults in the news. Cult Madness News is reports from a variety of sources by the Frankie Files Podcast host and writer Frankie Tease and Hot Takes of a Cult Kid Podcast.
Dita Von Teese brings 'Strip Strip Hooray' to Vegas in May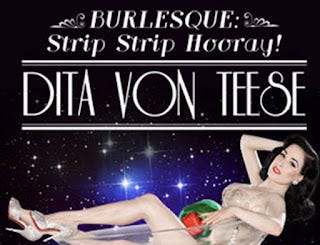 One thing often said about Dita Von Teese, is that she spawned the modern Burlesque movement. Whether you agree or not, Dita Von Teese has dominated Burlesque and high-fashion for almost a decade, with styles from the Turn of the Century, to the 1950's. Her milky white skin and waify yet curvy figure, are dreamy for fashion designers to work with, and easy on the eyes.
The show known as Strip Strip Hooray began in 2010 with a few select engagements leaving fans drooling for more. Luckily more they shall get. The 2012 tour is set to begin May in Los Angeles, and continue to San Diego, Las Vegas, San Francisco, Seattle, Portland, and Orange County. 
Audiences will be delighted to see more of the fantastic two legged Burlesque Ballerina who learned her Martini glass moves from original showgirl "Catherine D'lish", one of the world's leading exotic female performers, and a gorgeous red-head, who will be among the show's stars. Other lucious tour cast members include: MC Murray Hill, Dirty Martini, Lada, Selene Luna, Perle Noir, and Monsieur Romeo. 
Whether you like the riding of the pink bull, the martini glass routine, or her fan dance, Dita will be bringing it to you in high style set to amazing musical accompaniment. It's wonderful to see a star such as Dita Von Teese, who is also a style leader of this century, billed as the diamond in a traditional variety show setting, a show format that is fast-paced and has been proven to stand the test of time. 
The rave revues of Strip Strip Hooray are still resounding from 2010, and this tour will be met with the ferver that Miss Teese deserves, without a doubt. Creating gorgeous Dita clones around the world, there have been many an interview where Dita states that one of her delights is seeing women who adapt her style show up to the shows. Besides her entertainment value, she's creating beauty everywhere she goes. Viva Dita. House of Blues at Mandalay Bay, Las Vegas, $62, May 17-19, 2012.
Related Links: 
http://www.ditasdomain.com/ssh/
http://www.ticketmaster.com/Dita-Von-Teese-tickets/artist/1611596
© 2012, frankietease.com. All rights reserved. All content copyrighted or used with permission. This content may not be distributed, modified, reproduced in whole or in part without prior permission from frankietease.com.