Discover more from Frankie Tease
Cults in the news. Cult Madness News is reports from a variety of sources by the Frankie Files Podcast host and writer Frankie Tease and Hot Takes of a Cult Kid Podcast.
Diaz Mackie releases his First stand-up comedy album "#ThatSh*tCrazy!" out now
by Miss Frankie Tease
Diaz Mackie is a professional comedy host and traditional raw observational style stand-up comedian, and it looks like he's just hitting a new career stride after celebrating his 34th birthday (January 30th 2012). A Detroit, Michigan transplant, Mackie has spent seven years as a resident of Las Vegas, almost six of them as a comedian. He's a local favorite, and you probably know him by his weekly raunchy stand-up appearances at 'Comics Under the Influence' (Black Door, Bikini Bar). Other projects he's done include 'Smooth Vegas Nights', 'Who's Got Jokes?' (Season Five, TV), and he is currently at two prominent Strip Vegas clubs including L.A. Comedy Club (Planet Hollywood) frequently, and King's Comedy Club (Rio) twice weekly. 
Introducing heavyweight comedians from Comedy Central, HBO, and Showtime is what he does several times a week, entering his second year as a nationally touring comedian. He'll be staying busy with new and return visits to Arizona, California, Florida, Illinois, Indiana, Michigan, Oregon, Pennsylvania, New York, Texas, Washington state, and Wisconsin in 2012.
When asked what comedians top his list, Mackie stated "Some of my favorites include Dave Chappel, Eddie Murphy, Bill Cosby, Ron White, Lewis Black, Robin Williams, Louis C.K., Shang Forbes, Tom Rhodes, Peter Berman, and Daryl Wright". 
Mackie's humor includes self-deprecating humor about his lisp stating that it is "a 'handicap' after all". He combines hilarious racial, sexual, topical, news, and political jokes, and isn't afraid to perform clean or raunchy dirty. The CD includes some of the bad decisions he's made, and how changes in technology are effecting society. Mackie's first CD "#ThatSh*tCrazy!" is available now at any of his show appearances and reportedly at DiazMackie.com coming in the near future. 

Diaz Mackie  "#ThatSh*tCrazy!"  (CD) out Feb. 2012, $10, DiazMackie.com King's Comedy Club (Rio) 7-8pm Friday and Saturday

Find him @DiazMackie on Twitter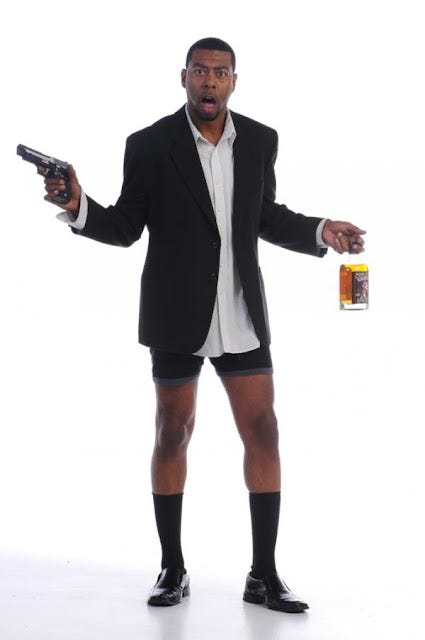 Photo by Ski Basham
© 2012, frankietease.com. All rights reserved. All content copyrighted or used with permission. This content may not be distributed, modified, reproduced in whole or in part without prior permission from frankietease.com.