Discover more from Frankie Tease
Cults in the news. Cult Madness News is reports from a variety of sources by the Frankie Files Podcast host and writer Frankie Tease and Hot Takes of a Cult Kid Podcast.
"Chubby Surf" Boards Create Design Waves in Vegas and on Two Coasts
an interview by Frankie Tease.

After seeing "Surf the Musical", the Broadway-level production that was at the Planet Hollywood in Las Vegas during August 2012, I couldn't help wonder how they got the $10 Million in props ready for the show (Read my show review). Sure, the multi-media aspect of it's glimmering L.E.D. backdrops were fascinating, and the cars too, but I couldn't help fixating on the organic craft of restoring old vintage surfboards. After all, surfers are an amazing group of people, and the boards reminded me of great times in California growing up. The musical had surfboards as tables, surfboards as surfboards (that thing you surf on in the ocean), decorations on walls, and even surfboards as advertising in kiosks outside the theater (pictured left - and how clever). 
After a little searching, I found out the surfboards were made by the guy from "Chubby Surf" (Dear John, Shark Week, Austin City Limits Festival, Long Beach Aquarium, Ralph Loren, Leblon NY) in California. I mean, how authentic could the surf thing be if they didn't have great boards? Well, they did. That's because they found Chubby Surf. But it's not the companies' first swim in the ocean. Owner/Operator Eric Sandoval (Yard Crashers, Bachelor) has done work with Hard Rock in Vegas, themed events all over the world, and he was even featured in a surf garden in the famous cable TV show called "Yard Crashers" (DIY Network), where his boards were strewn about the garden as flowers. 
I contacted Eric one west coast day, determined to find out: how does a fine crafts-person do what he does? Here is what Sandoval revealed about his life, classic surfboards, working on amazing projects, and what surfboards have to do with Las Vegas.
FT: How did the Chubby Surf company come to be what it is now? 
ES: Hard work and happy customers sharing their experiences with others. At one time, I was only selling surfboards on eBay. Now, I have design firms, clubs, retail stores, water parks, tv/film, restaurants and entertainment (like Surf) contacting me, all because of word-of-mouth.
FT: When did you begin doing preparation for "Surf the Musical", and building the prop-boards, and how did you get chosen to do so? 
ES: Buist Bickley contacted me (I'm not sure how he found me) but I have worked with several other places in Vegas before. He and I worked together on designing and bringing these surfboards to life. It started a few months prior to the show opening, so I had to make this project a priority and still fulfill my other orders. 
FT: How long did it take you to make the boards for surf the musical? 
ES: About two months total, I remember humming Beach Boys tunes as I worked on them, I was so stoked!
FT: How many boards did you make total for the project including props and displays with the musical's logos and art on them? (They are amazing by the way). 
ES: I did every single one for the show, I think 30 plus on the painted ones, and 12 vintage 1960s era surfboards?
FT: How long does it take you to make a "Wall Hanger" and could you describe the process? 
ES: My custom classic surfboards take about three hours each to do and there is drying time in-between each one. They start as your typical used surfboard, I repair all the dings, do lots of sanding, prime them, and then paint them.
FT: How long have you been a surfer? 
ES: I started surfing at Malibu at the age of 12, my brother and I used to take the summer bus there. Malibu was a great place back then, everyone encouraged me to surf and helped to teach me. I'm 43 now and I haven't stopped surfing! 
FT: Any final thoughts? 
ES: Just very honored to do this project for "Surf", everyone was super nice to work with. Very stoked that my hard work is appreciated, and so grateful for people trusting in me.
Eric Sandoval is the operator of Chubby Surf in Southern California, while Jeff Eilers runs things down in Deerfield Beach, Fl. Sandoval is available for special orders, used surfboards, and surfing lessons via ChubbySurf.com.
Article by Frankie Tease, Photos by Eric Sandoval
Surfer Shangrila Episode of Yard Crashers:
http://www.ulive.com/video/surfer-shangri-la
http://youtu.be/2bB0niAsYQU
ChubbySurf.com

"Chubby Surf" boards in before, during and after process.
Boards were featured in "Surf the Musical" at Planet Hollywood, Las Vegas August 2012.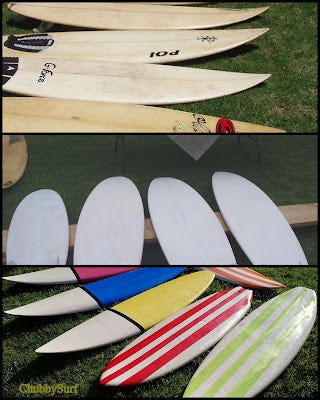 Rows of used surf boards before they get the "Chubby Surf" love. (note board with 3 fins).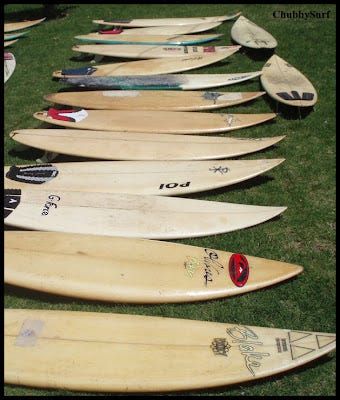 © 2012, frankietease.com. All rights reserved. All content copyrighted or used with permission. This content may not be distributed, modified, reproduced in whole or in part without prior permission from frankietease.com.