Discover more from Frankie Tease
Cult Madness News, Frankie Files Podcast, Hot Takes of a Cult Kid Podcast, by Frankie Tease, writer & Morningland #LongBeachCult adult child survivor.
Chippendales Guest Starring Ian Ziering - Las Vegas - Through July 14, 2013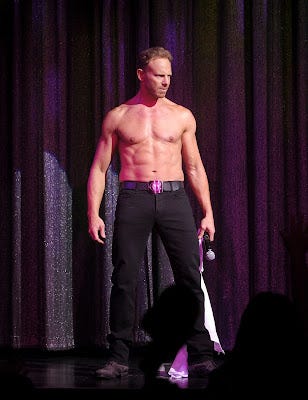 Ian Ziering - photo by Denise Truscello
It finally happened, I went to a male revue. But not just any male revue, the most recognized name in 'girls night out' in the world. Vegas is home to a cast of 12 buffed and cut male entertainers, and the show has been at the Rio since 2002. The Chippendales show travels all over the world but the difference is that in Vegas, it is not fully frontal nude (fooled me at times). And personally, I'm glad, because the fever pitch of almost 400 women was so wild that I can't imagine what might happen in a full nude show. Here the guys wear a sock (for lack of better term). But we never really knew that, because whenever they fully stripped they showed the back side, or the hyde.
Recently Jaymes and James have brought new recognition and respect to the show by being featured nationally on the reality TV gem "Amazing Race". If that weren't enough the Vegas show snagged heart throb Ian Ziering of 90210 fame (pronounced eye-an) in a limited engagement. Ziering was dazzling, charming and put the icing on the cake of male deliciousness during the Friday June 28, 2013 show I attended.


I encountered Ziering first at Stratosphere's April PinUp red carpet event and was stunned by his youthful appearance. Ziering originally was slated until June 30 as guest star, but is now extended through July 14, don't miss it. Ziering acts as host and plays the only speaking role for the night. But unlike some celebrity appearances, this star falls in and actually dances tight group choreography and also sings. What? He Sings? Yes. I sure didn't expect all that. At one point Ziering shocked me by asking our row to stand up so he could sprint - and I mean sprint - across the chairs doling out high fives and hugs to the fawning fans. 
Before the show started, huge parties of bachelorettes and birthday girls gathered in a cue, some all dressed alike as is the fashion. There were a few token men in attendance of the 350 seat state-of-theart theater inside the Rio Hotel, as well. One group stood in front of the postered wall outside the theater, and were so kind to pose for the camera. Looking cute ladies.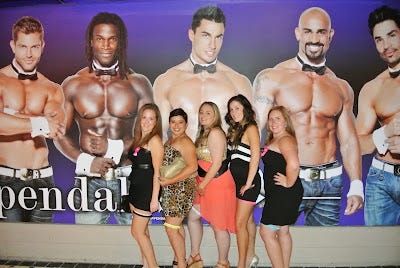 Bachelorette Party Pre-Show - photo by Frankie Tease
As we were seated (center three rows back) the first thing outstanding was the shrill tone of female excitement. I asked a bouncer how he handled it, and he said "we wear earplugs". No kidding. The room offers two shows a night on weekends including the guest star, and even when not offering two shows, don't worry, it's nightly. No matter when you are in attendance, you're in for a treat. Not only do the Chippendales dance their pants off, literally, they also offer a photo opp. to all (extra fee), post-show on stage. Then there's more: they come out to the "Flirt Lounge" to mingle with those still standing. It's safe to say, these guys love their jobs, or are very convincing actors.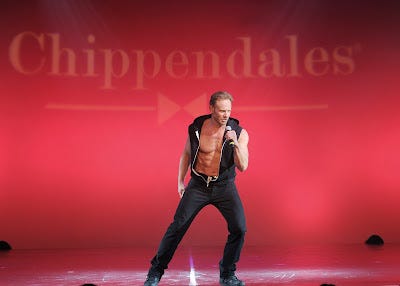 Ian Ziering - photo by Denise Truscello
Ian struts on stage and teases us with jeans and a half zipped hoodie. He says in an excited tone "Get ready for the best night of your life" as the stage fades to black. Dramatic. The show starts accompanied by the screaming of those reduced to teens (yes I become that) with a romp through the Chipps appearances in the media. TV Video clips shown included: The Talk, Real Housewives, SNL, E News, Wendy Williams, Inside Edition, Chelsea Lately, and The Simpsons. When a countdown began at 10, 9, 8... the crowd chimed in quickly.
The Chipps appeared in a rhythm nation style pyramid formation with trench coats and crotch grabs. They danced, and Ziering started with his surprises, by singing. The screaming of ladies never stopped. A fast pace was set as the second routine rolled on. A graffiti backdrop with hip hop music and a dance duet warmed up the crowd further.
Men at work was on deck, with elaborate props and sparks flying from rafters as 'wife-beater' t-shirts were ripped and flew into the audience. I know one thing, they go through a ton of new "Fruit of Loom" T's. Next it was massive-sexy-time as a few cast members came out with paint pails and little else. The men kneeled before us and began to paint themselves with hands and their chests start to glow-in-the-dark. Wewh. Can I get an intermission there? Nope.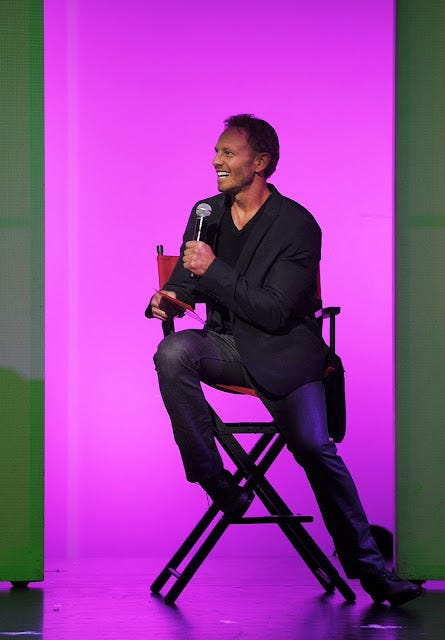 Ian Ziering - photo by Denise Truscello
It was time to bring a few lucky ladies on stage for what's called the "Chipp Show" with your host Ian Ziering. A spin on the dating game (shout out to Chuck Woolery), the ladies are placed on oversized hand chairs facing us. Ziering asks each of them a different question and they have to demonstrate the answer. One: What type of lap dance would you give? Two: What is your favorite sexual position? Three: What is most your creative way to put a condom on this bananna? These bachelorettes did not hold back in demonstrating their answers. They came to party. Contestant #2 actually "rode" a chipp who had laid down on the floor face up to help her demonstrate - to the audience's surprise. She ended up taking the win, and was whisked backstage for private time with Ian. That's some serious VIP treatment.
The show took a turn for the hilarious with some recorded music (as is the entire show) of "LMFAO". "I'm Sexy and I Know It" and "Party Rock" were popular as ladies sang along. Sunglasses and incredibly tight choreography were mixed with tons of audience participation moments as the songs riled the crowd even more. You never know where the Chipps will end up, so everyone was rubbernecking. They aren't shy with the sugar, either. They laid kisses, hugs, and spanks liberally to all their screaming fans, no matter what age and size we were.
Chairs came out on stage and about eight routines in we got some sexy Marooned 5 music as the Chipps treated the chairs like horses. Beautiful lighting and backdrop changes were so fast I could barely keep up. Part of the cast were in bare feet and were moving slow as clothing was shed down to little shorts. The smell of cocoa butter and cologne was present as we were treated to Ziering singing again. So fun. He wrapped up the song by saying "You're going to love this next one".
The famous dance scene by Tom Cruise (music by Bob Seger) from Risky Business "Old Time Rock N' Roll" came to life, while white button down shirts, tidy whities and white socks let our boys slip and slide through the routine. Down they came doling out kisses, hugs and lap dances for those in the front row. These guys didn't stop heating up the room during the 75 minute performance. Let's just say by this time the 'spank bank' was already full, at least for me. May I be dismissed?
About the tenth routine kicked-in with a lucky lady from the audience front and center. She sat facing us and with a towel on his hips a performer stood with his back to us. He asked her to help put on his tidy whities under the towel, which she did, and the towel dropped a little too soon. And what a reveal. He asked her to put on his big white sweats, she did. He lap-danced on her a little bit as she broke an obvious sweat. "This is what living vicariously feels like" I and a few hundred women thought.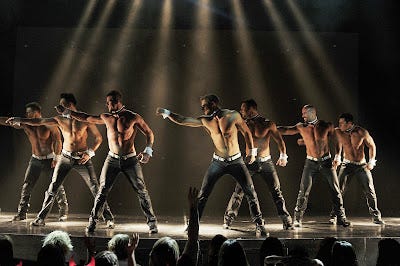 Chippendales by Denise Truscello
Now the fun and games stopped for just a minute while it was time to get slow and low. This was my favorite routine. It was appealing to our animalistic nature. Three huge props were visible, an all-white clothing routine, it's one I'll not forget it. A bed in white was at stage right, a white couch at center, and a white motorcycle (with beautiful black Chaun Thomas) at stage left. The slow sexy beats started the guys stripping. At one point Thomas ran, flipped in the air over the motorbike landing on his feet and ripped his white-T open, tossing it to the audience (gasp). To think he's done that for seven years sometimes twice a night. They were pushing it here and went down to completely nude with a cloth over their loin. Going back to their props, they each lay prone and I felt like a dirty voyeur watching what men did alone. It was ridiculous, in a good way. The music started to speed up and they matched thrusts and they continued to do so. I just was not prepared for that. It was sexy as hell, and my jaw was still on the floor as the curtain closed.
The navy routine with regular Joes was next, progressing into boys in their dress whites. The choreography was clever including a marching parade leading into a strip tease where the whites end up on coat racks. The song "I Can Be Your Hero" had everyone's hearts melting. It was back to classy. I loved the slow glove removal and tease here, it was boylesque times ten. During this routine I stood up and screamed and got the torn wife beater of Dancer Jonny Howes (knuckle bite). Thanx Jonny.
Ziering came out to chat a little bit (thank goodness for the reprieve). He addressed a gay man in the second row, "You having fun sir?" "Love it" he said. I found out later that was Ty Russert from Memphis, TN. His favorite routine was the navy tribute. Next Ziering ripped his shirt tossing it to the screaming crowd. He was completely ripped, cut, buff and youthful. Ziering let us know a few bits of housekeeping, invited people to stay and mingle later and introduced the next routine starring Chaun Thomas called "Smooth Criminal". Cards, pool playing, dice, and jazzy drum and bass beats mixed with fedoras jumping in time. A gunshot rang out and slow motion choreography began. I was officially blown away. The Michael Jackson tune played as dancers went into high gear changing speeds. Smooth Criminals indeed.
One of the Chipps laid a fat kiss on my forehead (never wash) during the next number, by coming into the audience running through the chairs. And a very elaborate vampire routine commenced. A few audience members (three) were brought up again (this happened a lot). One was tied at curtain open to a pole, a hapless prisoner. Oh darn. Two were captive in the red-lit lair. Chippendale dancers wove in and out of the ladies and as they stripped, brought us to the finale  vampire moment, dipping the three audience members, and issuing a love bite on their necks. Fade to black.
Zipper pants were next and we couldn't wait for them to walk out of those (again). It never gets old with bodies like those. But I think the most sung-to number came along in "Save a Horse, Ride a Cowboy". The fence, the boots, the ropes, and the cowboy hats all got the Chipp treatment and we saw a lot of those cowboys by the end. They roped one of the gals from the audience and spun her through a herd of cowboys during the process. A story for her friends. There was another duet to some techno music, and the next thing we know... it was fireman time.
The guys were twerking every muscle in their bodies as they went from full fireproof gear to red speedos. Finally, Ziering made sure all the contestants  earlier brought on stage got Chippendales calendars and gift bags. Soon, the show began to wrap. I know I can't do the full production value credit here, as it is one of the smoothest and most professional I've ever seen. Bouncers are kept on their toes the entire time as ladies in heels (drunk ladies in heels) sprint toward the stage, and are brought back down stairs after participation. Nobody got hurt and everyone had fun.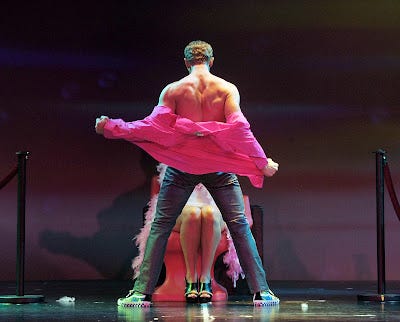 Ian Ziering - photo by Denise Truscello
I caught Ian Ziering in the Flirt Lounge after the show and asked him a couple questions. I asked how long he prepared for this gig, because he looked amazing. "It's all maintenance now" stated Ziering. "It was a three month work out preparation, two times per day and dieting". What was the craziest audience moment you've had while doing the Vegas show? "One woman came up on stage and took off her dress completely. That was pretty shocking". Lucky travellers and Vegas residents can catch Ian Ziering as special guest star on weekends through July 14, 2013 at the Rio. The man is a natural, and can sing and dance. It doesn't get much better than that. Go team Sanders. I just want to know which of these guys spanked me during the photo opp. If you're reading this, I'm single and available, and give great back rubs. One can dream.
Check out the Chippendales Vegas Show at the Rio via their website http://www.chippendales.com/vegas-show/. Chipps play nightly 365 days a year, and Saturday shows sell out fast, so be sure to book ahead. Parties of ten may purchase tickets in bulk via http://www.chippendales.com/vegas-show/group-sales.html. Some attractions at the Rio will be free with Chipp tix, so save your stub.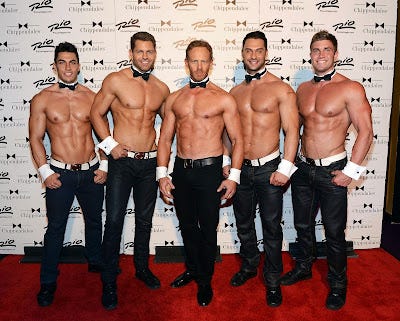 Red Carpet: L-R, Jonny Howes, Jaymes Vaughan, Ian Ziering, 
James Davis, Gavin McHale - photo by Denise Truscello
Related Links:
Photos of Ian Ziering and Vegas Chippendales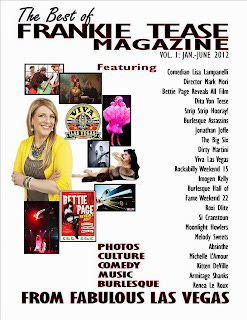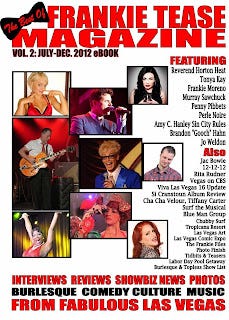 © 2012, frankietease.com. All rights reserved. All content copyrighted or used with permission. This content may not be distributed, modified, reproduced in whole or in part without prior permission from frankietease.com.