Discover more from Frankie Tease
Cults in the news. Cult Madness News is reports from a variety of sources by the Frankie Files Podcast host and writer Frankie Tease and Hot Takes of a Cult Kid Podcast.
Burlesque Producer, Author, Entrepreneur Jac Bowie is Seeing Red - A Book Preview by Frankie Tease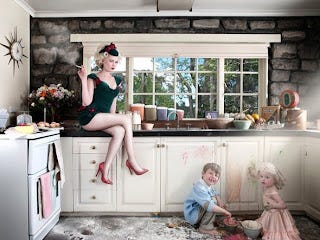 Jac Bowie and her children by Alexia Sinclair

There is no disputing Australia's involvement in reviving classic burlesque, and in bringing neo-burlesque to its current stage-show popularity. One prominent beauty playing a large role in this drama is Jac Bowie of Australia. I first wrote about Bowie back in 2010, focusing on her successful international burlesque talent agency, one of the only in the world. A Burlesque Personality, Mom, and Performer turned Producer and Entrepreneur, Jac Bowie has been deeply involved in the sexy side of show business since 2004 and is set to release a tell-all book entitled "Business in Heels". Bowie's first ever book is slated to publish December of 2012.

Jac Bowie has been involved in the Burelsque Hall of Fame Weekend in Vegas for many years, though she is retired from burlesque and has gone back to the mainstream arts. One of the audiences loudest responses at the BHOF Weekender 2012 was to the Stage Door Johnnies. The troupe has just recently wrapped up its Australian tour produced by Bowie, to much acclaim. You don't hear very often of a traveling boylesque troupe, or even a boylesque troupe, but trailblazer Jac Bowie's done it. Bowie has also acted as a judge for Las Vegas's Burlesque Hall of Fame Tournament of Tease in 2011, an honor reserved for only a few who decide the year's winners.
In 2004 Bowie imagined the Burlesque Ball tour, and then made it happen. The event toured Adelaide, Brisbane, Melbourne, Perth and Sydney, selling out major theaters becoming an annual event. To illustrate the connectivity and popularity of Bowie through social media, she personally has over 37,000 followers on Facebook, over 20,000 on Twitter and has recently joined the exclusive networking site WhoSay.com.
Bowie's lipsticks are another part of her recent burlesque success. After spending years in the make-up industry, Bowie combined her knowledge of the craft, her love of the arts, and her industrious business side and created her own line of lipsticks. Using current international burlesque stars to name each shade of red, she, herself is the signature color: Bowie Red. The line is called Red by Jac Bowie, and it's for purchase on her website. A plus to buying the lipstick is being able to say I have Immodesty Blaize on my lips, or I look great in Dirty Martini. 
Bowie remembers flirting with showbiz first at age six when she made her mom turn bright red singing out "Like a Virgin" in an Australian super-market. She also got in the habit of making patrons value her art pretty young: "I'd put up posters in the house and charge guests for tickets!" she stated about her parents' dinner parties. It's rare that an artist is creative and also unabashed at selling their product, but it seems that when they are, they find success as Bowie has.
Aiming to inspire others to turn their dreams into reality, Jac Bowie promises twists and turns in the book, representing her showbiz life. If you have ever been backstage, you know what a wild life it is. I can only imagine what she has seen and heard with the caliber of star she's worked with. 
Judging by the rich images she's produced, and complex shows and events Jac Bowie has created, there is little doubt the books will not only entertain, but will also be well received with readers interested in this fascinating art-form world-wide.
Business in Heels hard back edition comes out December 2012. Those smart readers not wanting to chance a sell-out of this book can pre-order at http://www.jacbowie.com/blog/store/products/burlesque-pre-order/.



Article by Frankie Tease
Related Links: 
Bijou Group Article http://www.frankietease.com/2011/10/burlesque-and-bijou-gruop-of-australia.html
Jac Bowie's Website http://www.jacbowie.com
© 2012, frankietease.com. All rights reserved. All content copyrighted or used with permission. This content may not be distributed, modified, reproduced in whole or in part without prior permission from frankietease.com.