Discover more from Frankie Tease
Cult Madness News, Frankie Files Podcast, Hot Takes of a Cult Kid Podcast, by Frankie Tease, writer & Morningland #LongBeachCult adult child survivor.
Burlesque History Comes in Sweets' Release
A Debut Album Event Review of Melody Sweets 
"Burlesque in the Black"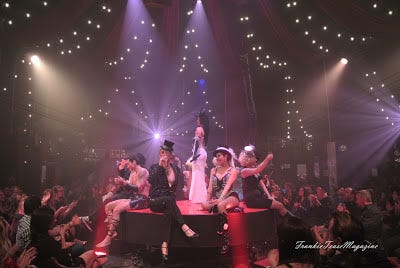 The highly anticipated debut album show was built up with adverts in Las Vegas over several weeks and each major paper in town had done their preview. The star had just released her debut album of originals after well over a year of success as the headliner in what has been voted "Best Show" many times over. The show is a turn-of-the century tribute with live singing and strip tease by Sweets, and world-class acrobatics at-close-range, combined with wild and inappropriate humor by Host the Gazillionaire and Side-kick Sock Puppet Queen Penny Pibbets. Flesh and skill are what holds the show together as well as more up-close views of  aerials than any Cirque show ever offered.


The unabashed sexiness that Sweets exudes for Absinthe is obviously the natural resting place for the artist in her own original music. The release party and show began with a video intro where co-star Penny Pibbets presented the sock puppet Melody Sweets from the back stage dressing room. Interrupted by Sweets as she impersonates the star, Pibbets is busted and the video ends. This media was followed by the world premier of Sweets's new music video "Love Bite" the tune of which is still echoing in my head. The complex and dark lyrics mixed with rich body-painting and slithering snake images created an unforgettable style. Shot at Red Rock Canyon and using local body painters "Skin City" we saw a behind the scenes look at how it all happened, including some of the more funny moments as the male cast members of Absinthe joined her in a choreography for the video. 
The video became the live performance and Sweets finally made her entrance atop the shoulders of a hunk, trailing a huge scaly tail. She was lifted into the Absinthe Fairie's top of the tent position and swirled around as her tail was shed revealing just flesh, beads and pasties. Applause and hoots rang out. "Love bite, love bite.... lose control" Sweets crooned as the spectacle continued.
Penny Pibbets and the Gazzillionaire (who was a new character only for Sweets show) came and offered CD's for sale which was its own spectacle. Costume changes ensued and two women with coal-mine-like head gear flashlights and blonde locks started the next performance, launching into another clever concept ala Sweets. House lights down, the headgear lights brought Sweets into focus on the second Absinthe tent stage. With a vintage feel in its melody, Sweets sang "Gold Digga" replete with layers of gold and sparkling gold wings, her coal mining assistants began to remove one item at a time while she sang. It was utter magnificence to the eyes. The costume and Sweet's body were ravenous.
Next the house lights came on as one hapless gentlemen was recruited from the crowd to learn how to tassel on stage. The Gazillionaire came forth as his altar ego looking like a gold-diapered Maharishi with a huge shiny gold turban, and dipped (previously worn by the star) Melody Sweets' pasties in spirit gum and attached them to his bare chest. Acting as host Pibbets told the gent "You can take these pasties home and do whatever you want with them" Pibbets informed him. As she attached pasties to the outside bosom of her big blue puffy sleeved dress, she demonstrated that jumping would spin the tassels. He did it and garnered all the audience applause possible.
In an elegant black and white high cut gown, Melody Sweets took the back stage and sang the song "Slice of Heaven" which she opens the Absinthe show with ten times a week. A catchy ditty that requires the audience snap along with her, all complied. "I've got what you're cravin' for your - misbehavin'" sang the audience with Sweets. We all clearly had seen the show. Sweets stayed in gown and in concluding the song introduced Kalani Kokonuts "Miss Exotic World" and a Vegas local. 
Kokonuts worked a gorgeous plumed hat and seductive velour jacket and treated the chair in the middle of the round stage like her subservient. Glorious poses accented her amazing tiny waste and buxom bosom, and netted little bottom. Vegas is fortunate to have both these magnanimous performers, as were we in seeing them both in one night.
Sweets resumed with a chat to the audience about how long the album has taken to come to fruition and how excited she is that it's finally here. "Absinthe is the craziest show I've ever been in, and I hope it goes on forever" she stated as the audience applauded. Now very special guests the Candy Shop Boys (who were imported from New York to perform for this song) began providing the electric piano, stand-up bass and violin backing for "Fly Away" which is not on the album. "I hope I don't cry for this one" Sweets said and got through the beautiful melodic lament without doing so. "I didn't know when you said hello it meant goodbye" were lyrics proving Sweets can explore any human emotion and is unafraid to do so.
She spoke about the cast-mates of Absinthe and the show's success and that lead right into "As Good As It Gets" for the finale number. Moving through the audience in the tent with grace is what she's become famous for here in Vegas. As she wound her way to the round center stage, she began to be joined by all of her cast mates. "Seize the moment and have no regrets.... this could be as good as it gets" found every cast member sitting on the stage surrounding her as they held champagne glasses and cheered. As Sweets sang this one, the sincerity of the words she has written came through. First, she loves her job. Second, she is executing her career with artistic autonomy, a dream come true for any creative. Third, she is the first ever Burlesque artist to write her original music and debut it in album or show form. There was a lot of history being made right then and there.
As the show ended the mingle fest began. Fans and VIP took photos with the star, congratulated her, and got their albums autographed. The show started at midnight and it was almost 1:45 am by the time we really left the tent. Deven May of the Jersey Boys smash hit Show at Paris was on hand, as well as Dustin Wax and Laura Herbert of the Burlesque Hall of Fame, and trumpeter Chandler Judkins from Frankie Moreno's Show at the Stratosphere. All proceeds from the door fee went to support the Burlesque Hall of Fame. 
The success of Sweets is not only in her clever originality but her absolute classic sexiness and torch stylings. The album is a beautiful mix of electronic music and throwback 30's and 40's Jazz stylings that would make Billy Holiday want to join in the chorus. Congratulations on this career triumph, and may Absinthe never end its run in Vegas. I know the audience present shared in a very personal moment of accomplishment with the singer and performer that we'll not soon forget.

Buy "Burlesque in the Black" now via melodysweets.com
See Absinthe the Vegas Show absinthevegas.com
© 2012, frankietease.com. All rights reserved. All content copyrighted or used with permission. This content may not be distributed, modified, reproduced in whole or in part without prior permission from frankietease.com.