Discover more from Frankie Tease
Cults in the news. Cult Madness News is reports from a variety of sources by the Frankie Files Podcast host and writer Frankie Tease and Hot Takes of a Cult Kid Podcast.
"Burlesque Assassins" Puts the Sass in Assassins, Now on DVD and Streaming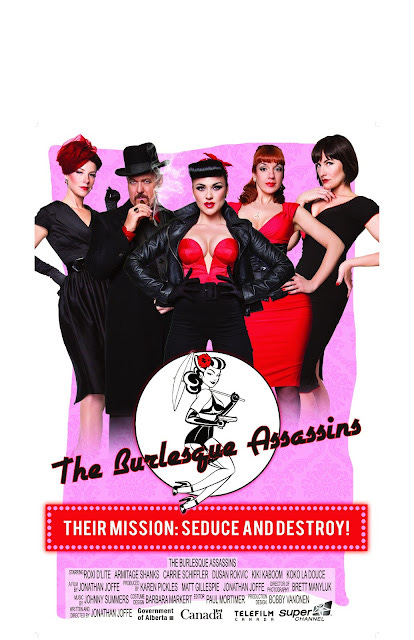 There is big news in the world of International Burlesque. In 2012 the comedic thriller Burlesque Assassins was released to theaters by Writer and Director Jonathan Joffe. I had the pleasure to interview him and that extensive interview is in "Best of Frankie Tease Magazine Vol 1". The ebook is available on iTunes, Amazon, and Nook. Great news came again this month. Turns out I won't have to wait until this film is screened in Las Vegas, because it's now available to rent streaming through Distrify. No matter if you don't recognize the name, all you have to do is get your credit card ready with six bux ($6.99 for special feature edition, and full dance acts added) and click play. I did it, and here is my review.
I want to start off by saying the amount of effort put into this period piece is pretty spectacular. With funding by Telefilm of Canada, Joffe set off to direct his first full feature after years of success as a short film director, and screenplay writer. He made great decisions. One: to weave in a story that plays on World War II, something the whole world was involved in. Two: to feature actual modern burlesque stars who are recognizable to the performers, producers and audiences of international stages of burlesque today. Three: to involve jazz players from Canada who are spectacular and feature swing and big band numbers that mark the era. Ode to Johnny Summers who really shined in composing original and cover arrangements for this film. Four: to actually have a plot that sucks you in.
Joffe who is responsible for the screenplay and concept, directs the piece after spending two years doing ardent research on who's who right now in Burlesque (his research started in 2009). Joffe went to festivals in Canada and New York and stated in our interview "The film would not be possible without the support of the Calgary Film Community and the International Burlesque Community". This really shows. The sense of humor and the love of era comes through, and as is stated in the credits, all stage dance choreography is done by these professional performers themselves. One such performer being Bourbon Sue (Roxi D'lite) out of Windsor Canada, who was crowned Queen of Burlesque 2010.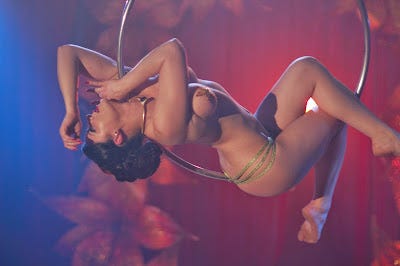 Broke our topless photo rule here for Roxi D'Lite!
D'lite has a starring role as a Burlesque Assassin recruit trying to earn her place in the gang with her first kill. The 'dumb blonde brunette' type of character who can defend herself while naked is, well, delightful. D'lite has the most naked screen time and is one of those people that is so comfortable in almost nude performance that it's kind of amazing to watch. We are treated to one of her award-winning and death defying performances on the hanging hula-hoop, one which many will stop and rewind to view again, I'm sure of it.
All the girls can all kill on a dime. Props, makeup and regular stuff is all turned into clever killing tools, and many came as surprises which I won't dare spoil for you. Many of the performers use their actual stage names such as Kitten Deville, Scarlett Martini, Kelitta Maloof, Xarah Von Den Vielenregen (say that fast twice),  and Amber Ray and Vegas' own Renea La Roux.
Armitage Shanks Crellin plays Johnny Valentine the head of the Burlesque Assassins recruiting those on a mission: seduce and destroy. He knows how to pick 'em as we are transported to a club where the backdrop is continuous burlesque performances by stunning females, as they try to pick off leaders who threaten the safety of the world circa 1950's.
The film mixes the era with the resurgence of burlesque seamlessly, titillating the American and International love of that bygone era. Shanks voice is shamelessly attractive while Katerina Molotov (played by Carrie Schiffler) does a hilarious overdone German accent. The two are star-crossed assassin lovers who are longing to reunite over the many dead bodies, however many it will take. While the clone of Hitler played by Brendan Hunter cracked me up when he said "I vill voo her vith my Aryan charms", again playing on the German accent.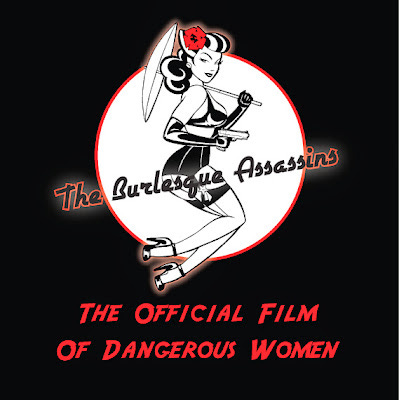 The writing is witty, kitschy, and funny, and we are treated to classic planes, classic cars, classic wardrobe, while the stars try to stop the imagined 4th Reich. I personally wanted to see more of Shanks in the dapper male clothing shown in the beginning of the film, but saw more of the man in a dress while his character Johnny Valentine is in disguise, my only complaint in the film. The guy has charm. 
The plot and strip tease continually build tension as the bodies and wardrobes drop. The film has talent, tasseling, and timing, not to mention thighs that kill in Koko La Douce (every man's preferred method of death I assume). Do not delay in being among the first to see what is sure to become a cult classic internationally. Frankie Tease Magazine gives this film two thumbs up. 
Official statement from the Director Jonathan Joffe, July 9, 2013:

"After more then 50 screenings in 10 countries, and after being translated into seven languages, the amazing feature film "The Burlesque Assassins" is now available on DVD and Video. This award winning film stars 2010 Queen of Burlesque Roxi D'Lite, London Cabaret Sensation Kiki Kaboom, Armitage Shanks, Koko La Duce, Kitten de Ville and a host of burlesque superstars from around the world".

To view the trailer and rent or buy the film on DVD, go to: burlesqueassassins.com. Anyone who likes the 1940's and 50's era or likes burlesque is going to love this film.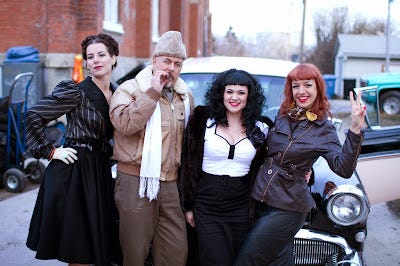 L to R: Stage and Screen Stars: KoKo La Douce, 
Armitage Shanks, Roxi D'Lite, Kiki Kaboom






Related Links:
Carny Armitage Shanks

Read the interview with Director Jonathan Joffee at
http://www.frankietease.com/2013/12/burlesque-assassins-director-jonathan.html
© 2012, frankietease.com. All rights reserved. All content copyrighted or used with permission. This content may not be distributed, modified, reproduced in whole or in part without prior permission from frankietease.com.