Discover more from Frankie Tease
Cults in the news. Cult Madness News is reports from a variety of sources by the Frankie Files Podcast host and writer Frankie Tease and Hot Takes of a Cult Kid Podcast.
Burlesque and Pin-Up: Miss Kitty Baby of 'Pin-Up Angels' interview at Viva Las Vegas 15
by Frankie Tease
Live from Viva Las Vegas 15, I stopped the very busy Miss Kitty Baby from Seattle who answered a few questions poolside after the Vintage swimsuit contest, an annual event at the Viva Las Vegas Rockabilly Weekend held in Las Vegas yearly on Easter weekend. On the final day, we chatted, but only after I saw her smiling face and lovely figure many times in the halls and events. To say the least, she stands out.
FT:How long have you been doing Burlesque? MKB: About six years.
FT: How long have you been involved in Viva Las Vegas?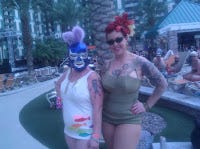 Photo by Frankie Tease at VLV15
MKB: I've been involved in Viva for ten years, this is my ten year anniversary.
FT: So that means you started when it was at the Gold Coast Hotel and Casino?
MKB: It was at the Gold Coast, and the car show was on the roof top of the parking lot.
FT: Is this your first time entering the Vintage Swimsuit contest? 
MKB: This is my third time actually. I won the vintage swimsuit contest in 2010, I won 2nd place 2004.
FT: What are your upcoming projects in Seattle? 
MKB: My upcoming project in Seattle is a Burlesque Hall of Fame fundraiser for the Legends Challenge. We raise money to bring legends to the Burlesque Hall of Fame (June 2012 Las Vegas), and pay for their hotel, air fare, and accommodations during the weekend. We have three shows in Seattle benefiting the Legends Challenge this year. 
FT: Who are you working with on that?
MKB: The Acadamey of Burlesque, Miss Indigo Blue will be doing the first show in the series. Myslelf: Miss Kitty Baby, will be producing the second show, and Vixen Valentine a fellow 'Burlesquer' in Seattle will be producing the third show. 
FT: All before the Burlesque Hall of Fame show in June?
MKB: Yes leading up to the show in June in Vegas. We have a big chunk of money we need to raise to get all the legends to the event. We have Iva Handful performing in ours who was a contestant (at Viva) last year, we have Seattle icon Tamara the Trapeze Lady who was pretty much innovative in the start of Burlesque in Seattle in the 90's. We also have Di Alba who is a newly discovered legend who's come out of hiding and she'll be performing her first showcase in over 25 years.
FT: You're making me verklempt. What advice do you have for ladies getting into the swimsuit competitions or Burlesque?
MKB: When you're part of a swimsuit competition or a pin-up contest, the most important thing to remember is you're part of the experience for the event. So by even doing everything you have to do to get up on stage, you're creating the experience for the attendees, and you're making that event that much better by your presentation. So if you win, fantastic, if you participate, really fantastic. Because you make it fun. You're also representing that event. So that's important to remember with your presentation, and how you choose to behave. It is representing the magazine or the car show or the festival.
FT: It may determine whether you get to participate in certain things again.
MKB: Well, it makes it a more enjoyable experience in the whole big picture. As far as Burlesque, to get into Burlesque that's a little bit harder. There are so many aspects of Burlesque that I enjoy - the costuming, the tease, and the entertainment value of it, but the history of it too. I think the most important thing is don't do Burlesque because you want to feel better about yourself.  Do Burlesque because you feel good about yourself and you want to make the audience feel as good about you as you do.  Always always always do as much research as you can on the history of what you're presenting. Going back to the roots of that will make you enjoy it that much more. Even if your audience can't see a little nod to a certain performer, or a little costume piece that is a vintage costume nod, you're going to know you're bringing it full-circle. That's really important in Burlesque. 
The Fringe and Feathers show is in Seattle May 3rd, 7pm and 8:30 tickets at www.fringeandfeathers.eventbrite.com/, www.MissKittyBaby.com, 
article by www.FrankieTease.com
© 2012, frankietease.com. All rights reserved. All content copyrighted or used with permission. This content may not be distributed, modified, reproduced in whole or in part without prior permission from frankietease.com.