Discover more from Frankie Tease
Cults in the news. Cult Madness News is reports from a variety of sources by the Frankie Files Podcast host and writer Frankie Tease and Hot Takes of a Cult Kid Podcast.
Burlesque and International star: The Shanghai Pearl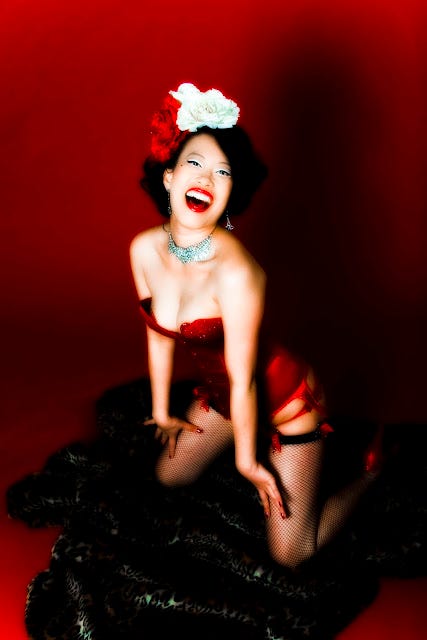 Shanghai Pearl by POC Photo


One of the most impressive performers I have ever seen once came on stage in a gorilla suit, and high heels (as seen on America's Got Talent). By the time she took that suit off she was in a bikini eating a banana. Who could I be talking about? None other than jet- setting, world class international burlesque instructor, performer, and costume-maker extraordinaire: The Shanghai Pearl. Below is the interview I conducted by chat, long-distance, with this amazing individual, June 27, 2011.


FT: Where are you originally from?
SP: I was born in Taipei, Taiwan.
FT: What year did you come to U.S., was it first Seattle?
SP: I came to this country with my mom when I was three, and grew up in Arizona. I've lived in Seattle for almost nine years now.

FT: What year did you begin performing burlesque , and what or who was your inspiration?
SP: I graduated from Miss Indigo Blue's academy of Burlesque in 2006. Before that I was a painter and theater major so I was always involved with some kind of burlesque although I didn't know it at the time. I am inspired by so many things, super powerful and gorgeous ladies, especially our burlesque grandmothers. Some contemporary performers that inspire me are Catherine D'lish, Miss Indigo Blue, Julie Atlas Muz, World Famous BOB, Tigger, Dirty Martini...really, I am inspired by so many people and and so many things. The range of things that inspire me is really broad, from soda, to art, to a funny color or curve on some object. Often it starts with a weird cartoon or kooky joke in my in my head.

FT: The comedy in your act is always just amazing. So how did you then become a part of the courses taught at Miss Indigo's Academy of Burlesque?
SP: My first year of performing I also started interning for Miss Indigo's School of Burlesque, and one thing led to another. It's the most fulfilling and amazing work- working at that school. I love it.

FT: So when did you first travel to perform in Portland?
SP: A few years ago my first show in Portland was at Dante's with The Can Can Castaways and Armitage Shanks.

FT: What year?
SP: 2007 or 2008

FT: I first met you via Meghan Mayhem in 2009 when you were our star at one of the Tease Time shows I had at Crush. It seems you have been coming a couple times a year since 2007?
SP: Yes

FT: So is this around the same time 2007 that you became an instructor as well?
SP: Or on my way to being one, yes. I interned and assisted for many years before I became a lead instructor.

FT: I hope some of our beginners are reading this. Obviously Miss Indigo has many talents.
SP: She's amazing and reigning queen of burlesque, baby!

FT: How then have you become involved in the Vegas scene with the Burlesque Hall of Fame?
SP: I think my first Burlesque Hall of Fame (BHOF) weekend was 2007 as well. I've been participating in one way or another since then. Whether performing, volunteering, or both.

FT: Since when have you become a full time teacher/ performer of burlesque?
SP: So I've been a burlesque performer for five plus years, instructor for four, and costume designer for 10+ years (five of which has been in burlesque). The first few years I would work day jobs here and there, to help pay for costumes as burlesque is expensive and doesn't pay much. But last year I made a commitment to really focus on my business so far it's working. It's really hard work, but I'm doing it. I was 'full-time' from the very beginning though, when it took over my life, it *really* took over my life.

FT: Were you a prop costumer for the theater then?
SP: I was always a quirky D.I.Y. type. I would make new strange outfits to go to concerts in, that sort of thing.

FT: What era were you making fun stuff in? Was the style vintage?
SP: Early 2000s, maybe the late 90s. They were a little bit vintage, a little bit goth, kind of a little bit of everything, whatever tickled my fancy really. I would troll the thrift stores obsessively, take things apart, and put things together. I am not a trained seamstress, I was and still am very D.I.Y.

FT: We have great shops for that here. We are also lucky you like to perform here!
SP: I love Portland so much.

FT: How much? Why?
SP: Well, my awesome burlesque family down there for one and it's just a rad city! Good food, sweet people, fun shops, it's so great- and the best strip clubs in the world.

FT: How often do you travel now as a full-time Burlesque artist?
SP: I've been traveling at least once a month every month this year so far.
FT: Just like the comedians.

FT:What is the largest place you have ever performed burlesque?
SP: Apparently one of the world's largest stages is in Reno and I just performed there a few months ago for the 'Reno Rockabilly Riot'. But I think that as far as attendance and audience, it was probably at The Orleans for the 'Burlesque Hall of Fame' weekend the year before last, or the Washington Center for the Performing Arts for the 'Sex Workers Art Show' in 2008, there was 600 people there for that, that was pretty big and amazing. It was the first time I got to share the stage with World Famous BOB and Dirty Martini. It was so amazing: the show was sold out and we received a standing ovation.

FT: Wow. Seattle is way ahead of us in Burlesque. This is a point of curiosity for me, how do people find and book you? How does the modern A-level burlesque star do it?
SP: Most of my bookings happen over email. I am also pretty active in the community so I think that is how most people first meet me, in person- at shows, classes, or events. Bookings usually start with an email inquiry or in person. I don't advertise exactly, but I do keep abreast of Facebook and Twitter.

FT: Your performances make fun of sexuality, and seem to poke fun at asian typecasts. How did this start?
SP: Sexuality and Asian stereotypes: How did this start? The second I was born an Asian female. It's unavoidable, we are always exploring our sexuality, our gender, our faces, whether we are doing it consciously or unconsciously, we are doing it, always.

FT: That's deep.
SP: The poking fun was always there as well, for a long time privately and recently publicly, via burlesque.

FT: So you were developing your point of view long before it came to a stage near us?
SP: Yes. Gender, sex, race- all big topics - it needs humor. I think we all are (developing our points of view), wether we know it or not or wether we feel confident or safe enough to share it. We are always developing our opinion of ourselves and each other.

FT: Tell us about making the film documentary "A Wink and a Smile" Was this your first film production? how did you enjoy it?
SP: It was my first documentary with these circumstances.

FT: Were you in other films?
SP: I was more concerned about the students' well-being than the actual filming. I've done a few indie films

FT: Oh what films can we look for?
SP: that's private. 

FT: You're a tease!
SP: In Burlesque I'm in the Waxie Moon documentary as well as Waxie Moon: 'Fallen Jewel' from 'Ouch My Eye Films'. I don't think any of the indie stuff was ever distributed beyond their initial showing.

FT: You guys are doing amazing things about body image and performing as well as teaching stage and costuming, what is your role and what is the most outstanding experience you've had as a teacher so far in the last 4 or so years you've been doing it?
SP: I love teaching. My journey as a teacher with The Academy of Burlesque has been and continues to be an amazing journey. I've learned so much and I feel SO honored to be a part of so many amazing people's journeys in this potent and powerful art form.My role is currently a lead instructor with the school. I also travel widely to perform and teach some of my own curriculum (as well as the Academy's). As far as outstanding experiences...every recital is too amazing for words.

FT: Oh god and the tears right?
SP: It's really something else.

FT: How many original burlesque routines and costumes have you created to date?
SP: Thirty four. I just counted.

FT: GOOD GOD!
SP: I Know, woah.

FT: that's eight a year. And I know your costumes are stellar top notch level. That's incredibly impressive.
SP: Some of the acts are now retired.

FT: So what constitutes retiring an act?
SP: Some of my acts from my early years, I may have gotten tired of them or sold the costumes. Nothing formal.

FT: If there is one more thing I could ask you, it's this... "who belongs in burlesque" in your opinion? Who should be doing this?
SP: I think the great thing about Burlesque is that everyone has a place if they want it. Anyone can do it. Really, honestly, truly. If you have a gender, a sex, if you have something to say about it, get it. That's one of the reasons it's so potent, you make it yours.

FT: You're an inspiration for women and an amazing complex performer. Thank you so much for sitting down to talk with me today .
The Shanghai Pearl is one of the most well-traveled, fore-running performers in this genre we call burlesque. I hope that some of you will now become her fan and be as inspired as I am by her many views and talents. Please check out the following links for all things Shanghai Pearl.
Related Links
http://www.academyofburlesque.com
http://www.facebook.com/TheShanghaiPearl
http://twitter.com/ShanghaiPearl
Check out the longest running burlesque show in Portland OR. at Dante's via their website http://danteslive.com 11pm each Sunday, or locally at 350 W. Burnside, Portland OR.
© 2012, frankietease.com. All rights reserved. All content copyrighted or used with permission. This content may not be distributed, modified, reproduced in whole or in part without prior permission from frankietease.com.