Discover more from Frankie Tease
Cults in the news. Cult Madness News is reports from a variety of sources by the Frankie Files Podcast host and writer Frankie Tease and Hot Takes of a Cult Kid Podcast.
Burlesque and Comedy: Susanna Lee aka Lucky Deluxe Interview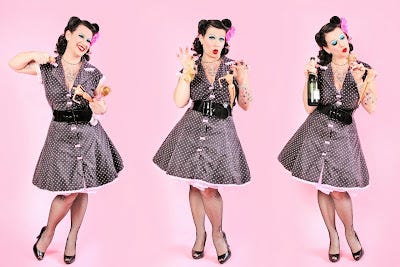 Lucky Deluxe by Vixxen Photography
Frankie Tease sat down to chat with nationally touring burlesque dancer and stand-up comedian Susanna Lee aka Lucky Deluxe . She dishes about audiences across the nation, producing burlesque shows, performing Stand-up since 1996, and how she put burlesque in her stand-up and is bringing it to major comedy clubs. This popular act isn't only disastrously pretty and curvaceous, but smart as a whip. Here is what 'Lucky' had to say.
FT: Where are you from?
LD: I am originally from Kansas City, but spent years in Chicago and Portland as well, and currently live in LA.,CA.
FT: How long have you been performing stand-up comedy?
LD: I've been a professionally touring stand-up comic since 1996.
FT: Stand-up comedy is so male driven , what or who inspired you to become a stand-up comic?
LD: I've always loved stand-up comedy, since I was a kid. The organic nature of it appeals to me, the connection between a good comic and the audience is such an amazing one.
FT:What is that like can you expound upon it!
LD: I believe strongly about the importance of writing for yourself. I love the theoretical honesty of stand-up, the ability a comic has to share their deepest secrets (should they choose to). I think that there is a mutual comfort between myself and the audience.There's a special connection created when a comic shares something intensely personal. When the audience relates, or accepts that shared thought, it creates a connection, bridges people from solitude. Makes the world a little less intimidating and lonely. I believe that good stand-up comics are the philosophers of our time. The modern day Aristotles, Platos, Socrates... 
FT: So you feel that being a comedian involves examining the world around us and asking questions of it?
LD: Comics have the opportunity to be revolutionary
FT: That's deep.
LD: Absolutely.
FT: You say so much in your act that is so subtle, and of course hilarious. The level of communication to the audience is amazing! How did you begin doing burlesque and when?
LD: I began doing burlesque in Kansas City. I was taking a class, didn't know anything about burlesque, started researching and found it to be the most fitting place for me. One of my best friend's died shortly after I started in burlesque. He was a comic also, and for a while, comedy felt off, I was able to throw myself into burlesque. Burlesque gave me the creative outlet to do stand-up as well as striptease, and tailor a show to be whatever I wanted it to be. This was 2006 when my friend died, and 2007 when I started performing burlesque. Burlesque gave me a comfort that I needed very much in that rough time. 
FT: So it too was cathartic?
LD: At first, in burlesque, not only did I have the outlet, but I also had very supportive and loving colleagues. It was cathartic, very much so.
FT: Your combination of burlesque and stand-up comedy is phenomenal - a real triumph for us as women. 
LD: Thank you!
FT: One line that comes to mind that stuns and cracks audiences up is when you say " I bet you never thought you'd like, listening to a stripper".
LD: That's my personal favorite line from that piece. I wrote that piece in KC. I was getting decent media attention, but noticed that writers always balked when I said that I was an exhibitionist. As though I was admitting some deep flaw. Which struck me as odd, because every performer has an exhibitionist streak. To be a performer of any kind, you must have the desire to be watched. One of the reporters that wrote about me frequently never seemed to truly get what I did. He was very cultured, but couldn't see the difference between what I do and strip-club stripping. He once approached a boyfriend of mine at a David Sedaris reading and asked him if he liked dating a stripper.
FT: So you have burlesque/strip-tease, traditional stand-up, and spoken word acts?
LD: I have stand-up, spoken-word striptease (I call them my poem-teases), and traditional non-verbal striptease.
FT: How have you dealt with being a 'strip teaser' in a predominantly 'man's world' of comedy?
LD: Dealing with the boys club was a concern of mine when beginning to bring my burlesque into the world of comedy clubs. I was concerned about being knocked for the novelty of it, but after a lot of soul-searching, I realized that I don't perform for them, I perform for me and for the audience. Some people have problems with innovators. 
FT: Definately So how long have you been presenting your comedy and burlesque acts with some strip tease and dance in traditional national comedy clubs?
LD: Bringing burlesque to comedy clubs has been a recent accomplishment for me. It has been over the past year. It has been my goal since I began in burlesque, but it took a few years for me to figure out how to make it a smooth addition.
FT: So you've produced bar room and dance hall theater burlesque in Kansas City to test it out?
LD: I've produced bar and theater shows to play with the design and see what would transfer best. I also have developed concepts for burlesque-based shows that are not reliant on traditional venues. My move to LA has allowed me to meet people who believe in my vision enough to help me make those new concepts into realities.
FT: I've seen your show at sit-down comedy clubs and at smaller venues that offer burlesque here in Portland. Both were amazingly received but had different types of audience reactions, the burlesque show audiences seem to be much more vocal.
LD: The burlesque audiences are encouraged to vocally show their support. Comedy Clubs discourage vocality beyond laughter, due to hecklers.
FT: Right. It's just a different situation and atmosphere. so you are working on a whole new show concept it sounds ?
LD: I am. I can't really go into detail because of where it is in development, but it is an absolute doozy of a show.
FT: Can you tell us about your 'Giggle-N-Grind' national tour? 
LD: Absolutely. Lucky's DeLuxe Giggle-n-Grind is my touring burlesque-based variety show. I am the only constant, the rest of the cast revolves based on location. The self-indulgent part of it is that it allows me to perform with the people I love in different parts of the country. That's one of the things I love about burlesque: the friends I've made. I love burlesque for the art it is, but the friends I've made have really been the sweetest icing on the cake. In each city that I regularly perform in, I know a group of people (majority female) that make my heart absolutely swell with love. The first show was in Tulsa in October 2010.
FT: As a mid-west girl, do you find different parts of the country receive burelsque differently?
LD: I've found the response to burlesque to be pretty universal. Cheering, laughing, being vocally involved.
FT: Nice. Now for our audiences, I don't think people realize HOW MUCH thought you have to put into each act, and planning. I mean you have to get props that travel, you have to arrange cues it's pretty complicated at times. All for that moment that can't ever be replaced, when the audience 'GETS' you. How do you keep it all together?
LD: Major organization and control freakishness. It isn't always a bad thing to be a control freak. Lots of planning. It would be nice to have an assistant, or a manager/agent, but when you do something out-of-the-norm, you must be very careful to join with someone who understands your agenda and doesn't want to eradicate what makes you special.
FT: When you manage yourself and are constantly on tour, definitely.
LD: Yep.
FT: This interview has been way too short, basically there are so many things I didn't ask that I'd like to ask you to do another one within six months, can you promise us that?
LD: I would LOVE to do another interview in 6 months!
FT: I dubbed you the Mae West of the Mid-West and you went and moved to L.A. But I still like the name. 
LD: I love the Mae West of the Midwest. Even though I live in L.A. now, I'm still a Midwestern girl.
FT: Tell our readers about your upcoming visit to the NORTHWEST during March, and how to keep 'abreast' on all the chances to see you in Portland and Seattle?
LD: To keep up on my travels, my website calendar is the best way: susannalee.com.
FT: Thanks a million for chatting.
Catch Nationally touring comedian Susanna Lee aka Lucky Deluxe March 2011 at Harvey's Comedy Club 436 NW 6th Ave.,Portland OR., Also at the Tonic Lounge Mar. 22 at 2pm for Hangover Helper Comedy and Burlesque Brunch Showcase, and more dates of her Pacific Northwest visit via her website, like the girl said: http://www.SusannaLee.com .
© 2012, frankietease.com. All rights reserved. All content copyrighted or used with permission. This content may not be distributed, modified, reproduced in whole or in part without prior permission from frankietease.com.