Discover more from Frankie Tease
Cults in the news. Cult Madness News is reports from a variety of sources by the Frankie Files Podcast host and writer Frankie Tease and Hot Takes of a Cult Kid Podcast.
The Big Six 'Rocked' Us at Viva Las Vegas 15 - by Frankie Tease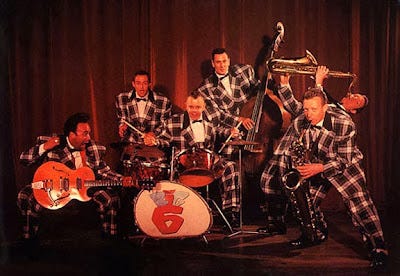 The Big Six photo courtesy of the band.
Part of the decision for me to attend this year's Viva Las Vegas Rockabilly Weekender was pushed over into reality by the fact that the Big Six of England would be one of the headliners. They have a very fond place in my heart, and hearing they'd be back in the states was exciting. You see, several years ago (perhaps in the teen count) this fiery band appeared at a little club I was at on the regular called 'The Derby' in Hollywood, maybe you've heard of it? It was an amazing night, and it converted me into a Big Six listener, as well as enthusiast. I wore those perfectly-measured-for-Swing-Dance albums out. Make that album. Back then, they had only the first album available 'Ready to Rock', chalk-full of 20 tunes, both top-notch covers and originals. Part of what I took from their live performance was their insane antics, like standing on the bass and lighting the piano and the bass on fire. Would the Big Six still be this
crazy?
As I stepped into the Viva Las Vegas Orleans Hotel Ballroom to get my spot for the Big Six, I was excited there was still standing room up front. I chatted with a woman all the way from Germany, keeping the international theme going. The band and roadies came and went, and the audience began to really fill-in. The introductory announcement by Dell Villarreal was met with cheers and the six-men-crew marched onstage tofollow the previous act who had just played the 11pm Saturday slot for the Las Vegas Rockabilly crowd. The lead singer of Big Six stepped up to the mic to say "hello, it's been a long time", and was greeted with "too long" shouted from the audience. Looks like I wasn't the only enthusiast present. The band leader stomped his feet with a one, two, three, and a wall of stupendous wacky synchronized rhythm washed over us. There was an audible "woah" released from the crowd. The band showed they were tight as ever. They got right into the title track from the "Ready to Rock album", "Let's Hang Out Tonight", a little Jimmy Preston blues cover with a hoppin' beat to move your feet.
As the entire band jumped and wailed hard, they looked impeccable in their six matching double-breasted plaid zuit-suits. Front-man Pat Reyford worked overtime with his stylish guitar licks, doing the triple-duty of rhythm & lead guitar, as well as lead vocals.
I personally reveled in the 'Lady of Nagoya' cover, which they turned into a frantic
bopper. Reyfords Doo Wop stylings cannot be challenged. The piano player, Dave Brown, showed his Jerry Lee Lewis frequently, while holding down stage right on electric piano, just next to their non-stop pro slap-bassist. Filling up stage left was their amazingly unique Saxiphone section, with both Baritone and Tenor Sax manned by two fellas who can be called spectacular musical marksmen, we were saxily nudged throughout the arrangements. Bringing up the middle of their set
came their cover of 'Tiger Feet', a song I always used to think was named 'Tiny Feet'.
The Big Six were audacious and comedic as in when the Barriton Sax player pushed the lead singer aside and sang a couple verses mid-show, in his very deep baritone voice. Everything about him was baritone. They eased into "Tell Me Baby" then slid into "Mama Weer All Crazee Now" an obvious crowd sing-along, while I waited for - and finally got - "Blue Moon". This was the rendition which made me love the song again, over a decade ago. I also was pleasantly re-surprised by "Sombrero", a favorite which I had forgotten about somehow, even though the song had given me years of dance pleasure (on Ready to Rock 1996, Hepcat Records). During this song, snappy front-man singer Pat Reyford impersonated an old man looking for his hat, I loved it. The cover of "At Last" consisted of solid Doo-Wop mixed with a shuffle-beat which drove the dancers wild. This 145-beats-per-minute song is one of the bands' slowest non-slow songs. When "Shaboom" started, the crowd got loose to a Ska and Doo-Wop mash-up with the incredibly nimble Peyton rhythm guitar. Meanwhile the band sang back-up lyrics "oh let me rock" in an echo, and we all joined in. The rhythm section tantalized me with their infectiously sweet beats.
It was all about the beat, and Big Six knows about the beat. They're the biggest big beat you'll ever meet. The biggest beat that, for me, won't ever be beat. If you want to be 'in the know' and 'reet' with the freshest beats to move your feet check out the Big Six. It's not the 90's anymore but here they are. The Big Six are talented and perhaps wild as ever. 
Visit http://www.facebook.com/BigSixRocknRoll and http://www.rockabilly.net/bigsix
The Big Six line-up for Viva Las Vegas was: Pat Reyford - Vocals and guitar, Ricky Lee Brawn - Drums, Al Nicholls - Tenor Sax, Nick Lunt - Baritone Sax, Anders Janes - Double Bass, plus from the U.S. touring band of the late '90s, Dave Brown on Piano.
© 2012, frankietease.com. All rights reserved. All content copyrighted or used with permission. This content may not be distributed, modified, reproduced in whole or in part without prior permission from frankietease.com.