Discover more from Frankie Tease
Cult Madness News, Frankie Files Podcast, Hot Takes of a Cult Kid Podcast, by Frankie Tease, writer & Morningland #LongBeachCult adult child survivor.
"Bettie Page Reveals All" Film Director: Mark Mori Interview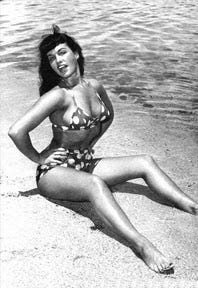 This interview with Mark Mori was originally published in "The Best of Frankie Tease Magazine Vol. 1" 2012 ebook. Enjoy. Check for the new film in your city soon.


It's June 2012 (Las Vegas) and I am calling New York to speak with Academy Award Nominated Director Mark Mori about his new film Bettie Page Reveals All (2012). He aims to give me the scoop on the amazing new documentary about Bettie Page (one of America's most treasured celebrities), and how she came to narrate her own life's story for his film. He is a concise well–spoken man who has obviously been changed by getting to know Bettie Page over the last few years of her life on this earth (R.I.P. Bettie 1923-2008). See what fascinating Director Mark Mori (Building Bombs) tells about the new Bettie Page Reveals All film in this interview below.
FT: How or why did you start this film project in the first place?
MM: Well, in 1996 I was having lunch in Los Angeles with my entertainment attorney, and he showed me the book 'Bettie Page, Life of a Pin-Up Legend' before it was going to be published. I didn't really know much about Bettie Page, but I immediately recognized from the photographs there was something very special. I said "Gee I'd like to do a documentary on her", and he got me introduced. I didn't realize that I was just at the right place at the right time. I was maybe a half dozen people that got to know her in her later years. 
FT: How did you gain Bettie Page's trust for the official narration?
MM: She and I would start going to lunch, and she would entertain me with these crazy stories of bondage photo shoots and all these things that happened in her life. A lot of what you hear her talk about in the film is what she told me over lunch. So I just got to know her. She was just dynamic and vivacious and entertaining. I then prepared a whole long list of questions for her about her life. I sat down with her and recorded everything I could think of to ask her.
FT: How did Robin Leach play a part in the resurgence of Bettie Page's popularity in the 90's?
MM: He brought Bettie Page back to national attention by featuring her on the show "Lifestyles of the Rich and Famous". That was in 1993. That was really the first time that there was national TV exposure of Bettie Page. I mean no one had known what happened to her for forty years or so. It's more like we're in the second wave of popularity for Bettie Page.
FT: Can you tell me about the poster art by Olivia for the film?
MM: In researching the film and getting to know Bettie and all the people that were Bettie fans and so forth, I met Olivia (De Berardinis) and got to talking to her about Bettie Page. I found that she had actually - way back in the early 70's - she had trained herself to be an artist of erotic art by painting Bettie, in other words, Bettie is how she learned to paint- from photographs of Bettie- from the 50's. Then, she created or painted the very first ad in which the image of Bettie Page appeared. It was a Thea Richie Jeans ad painted by Olivia. So Olivia told me this whole story, and I got to know her. I showed her some of the footage that I had shot, and she got very excited and finally one day, I called her and said "Would you do the art for the film poster? and she said "I never thought you'd ask".
Bettie Page Reveals All
Film Director Mark Mori Interview
The Best of Frankie Tease Magazine Vol.1: Jan. - June 2012, Las Vegas
FT: What has been your best moment dealing with Bettie Page fans?
MM: It's when I was in Las Vegas at the premier. Some of the people I had known that helped out on the film, you know, several Burlesque dancers, Bettina May of New York, and CoCo Lectric of Texas. Because they were Bettie fans, they had been volunteers and helpers and supporters of the film. Then, when I saw their reaction, how emotional they were when they saw the film and how connected - they felt connected with Bettie before the film - but then to actually basically come as close as you can to meeting and encountering and having interaction with Bettie - their emotional reaction - that really meant so much to me.
FT: What's the most controversial topic that you've treated about Bettie Page in your film?
MM: Well I think it's her mental illness. This is part of what happened during the disappearing years, I mean she was in a mental institution for ten years. She was charged with attempted murder. She plead not guilty by reason of insanity. Yet, her appearance in the film is after all this. When you hear her voice and the stories, you can tell that this is a person who's recovered, who's full of life and vivacious as ever.
FT: Why does the film need a fundraiser, and how can people get involved now?
MM: People can really get involved in the way that works for them. Whether it's telling their friends about it, going to the website BettiePageMovie.com and just reading about it. They can buy a poster or a t-shirt, or pre-order the DVD. We are the only place where you can buy autographed photos of Bettie Page. You can join and become a member and get your name in the credits, still.
FT: Is there a deadline for that?
MM: (10/25 update: soon). There isn't yet a set deadline. We're running the film around to a few film festivals. Once it gets done at the film festivals - it's got a lot of people that have joined it now - but people that join in the meantime will get their name in the credits- all of that will be added after the film festival run, but before it comes out in commercial wide-release in theaters and DVD's and that sort of thing.
FT: Is that slated for 2013?
MM: It'll probably be in early 2013 but I'm still in discussion. There are theaters contacting me and contributors, and it's really part of a grass-roots effort. We don't want to put it in the hands of a distributor who will just not really take care of the film and get it to the Bettie fans the way it needs to be. Please see BettiePageMovie.com for up-to-date information about this film.
Related Links:
Olivia De Berardinis Pinup Artist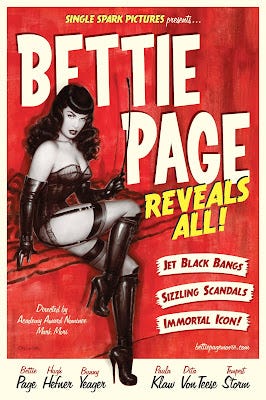 BPRA Poster by Olivia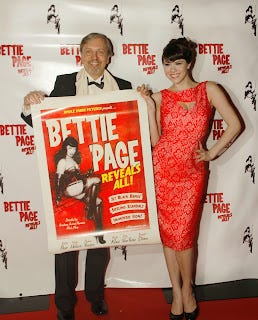 Director Mark Mori with 
Playboy Playmate Claire Sinclair
© 2012, frankietease.com. All rights reserved. All content copyrighted or used with permission. This content may not be distributed, modified, reproduced in whole or in part without prior permission from frankietease.com.