Discover more from Frankie Tease
Cults in the news. Cult Madness News is reports from a variety of sources by the Frankie Files Podcast host and writer Frankie Tease and Hot Takes of a Cult Kid Podcast.
"Best of Frankie Tease Magazine Vol.1" Easier Than Ever to Read
Exclusive never-before published in-depth interviews, articles that have been well-read and are in wider release, mixed with photos by Frankie and local Las Vegas photographers make this "Best of" book something special.
If you love the arts with a focus on Burlesque, Comedy, Music, and Culture, you must read the fun and informative articles from this embedded Las Vegas reporter. It will set you back under $5, and be instantly digitally delivered to your computer if PDF, or downloaded to your favorite device via your favorite eReader. Each six months, there will be a new volume, so keep up.
At the time of this article Sony, the iBookstore (Apple), and Baker and Taylor are not yet listing the book, but will soon. A list below will show you who does have the book in ePub format.
And here is the eBook version, it goes for $3.99 on your favorite eReader.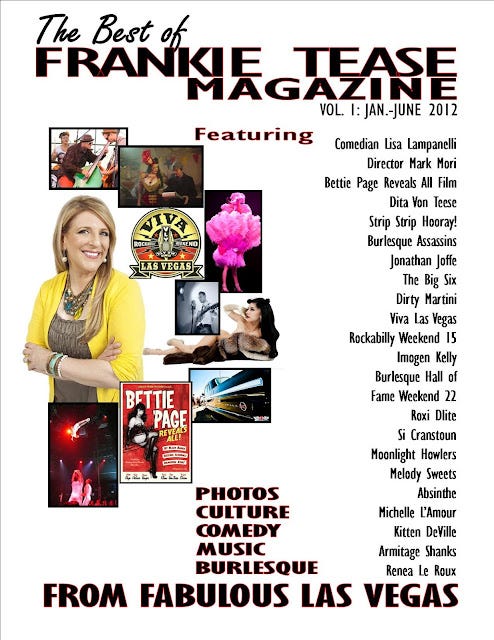 Buy Now $3.99:
Soon:

iBookstore- available by 9/27/12 [devices supported: iPhone, iPad, iPod Touch].

Sony- available available by 9/27/12 [Sony Reader]

Baker & Taylor- available by 9/27/12 [iPad, Nook, Sony Reader, Kobo Reader, etc.]
Exciting interviews, reviews, and photos in The Best of Frankie Tease Magazine Vol.1 include: Comedian Lisa Lampanelli (NBC, Comedy Central), Director Mark Mori of Bettie Page Reveals All Film (Building Bombs), Dita Von Teese (Bizarre, Playboy, Crazy Horse-Paris, House of Blues) Strip Strip Hooray!, Jonathon Joffe, Burlesque Assassins, The Big Six, Dirty Martini (Dirty Martini and the New Burlesque, Cannes Best Director winner: Tournee'), Viva Las Vegas Rockabilly Weekend 15, Imogen Kelly (Australia), The Burlesque Hall of Fame Weekend 2012 (Las Vegas), Si Cranstoun (of UK's Dualers), Moonlight Howlers, Las Vegas's: Melody Sweets (Absinthe), Michelle L'Amour (America's Got Talent, Naked Girls Reading), Renea LeRoux (Burlesque Assasins), and Armitage Shanks (Burlesque Assassins), and photos by: Blue Hair Media, Rene Gastelum, Jonathon Joffe, 53deluxe.com, Into the Gold Photography, and Frankie TeaseFotos.
ISBN: 9781623096434 
Frankie Tease is a reporter in Vegas since 9/11/11
© 2012, frankietease.com. All rights reserved. All content copyrighted or used with permission. This content may not be distributed, modified, reproduced in whole or in part without prior permission from frankietease.com.