Discover more from Frankie Tease
Cult Madness News, Frankie Files Podcast, Hot Takes of a Cult Kid Podcast, by Frankie Tease, writer & Morningland #LongBeachCult adult child survivor.
Best of Frankie Tease Magazine Vol. 2 eBook
FOR IMMEDIATE RELEASE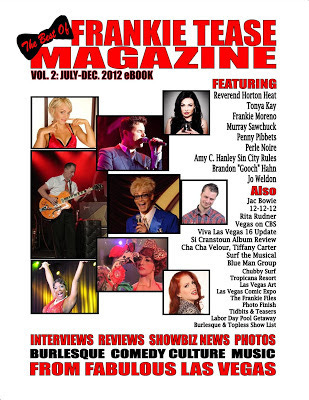 See my books on AMAZON NOW
See my books on iTUNES NOW
See my books on Barnes & Noble Nook


The Best of Frankie Tease Magazine Vol. 2 is a mix of tantalizing entertainment stories, resort and travel news, photos and exclusive interviews with visiting or resident Las Vegas performers, from July-Dec. of 2012. It's due to hit iTunes iBookstore, Amazon Kindle, and Barnes and Noble Nook eBook stores mid February for download at an amazing $3.99.

Whether you are a local Las Vegan, a tourist, or are just a fan of burlesque, comedy, Vegas culture, and music, you will enjoy the informative, timely, yet timeless articles written by Frankie Tease (Examiner.com, Candy Pitch, Vegas Seven, Guardian Express LV, Frankie Tease Magazine, Las Vegas). Entertainment stories, show reviews, and photos are staggered among in-depth interviews with Reverend Horton Heat (David Letterman, Late Night with Conan O' Brien, King of the Hill, Texas), Tonya Kay (The Lalas, House, Green Girl, Los Angeles), Frankie Moreno (Dancing with the Stars, Stratosphere Las Vegas), Murray Sawchuck (Magic Castle, America's Got Talent, Celebracadabra, Laugh Factory Tropicana Las Vegas), Penny Pibbets (Absinthe Las Vegas), Perle Noire (Strip Strip Hooray!, Burlesque Hall of Fame, New Orleans), Amy C. Hanley (Sin City Rules Las Vegas), Brandon "Gooch" Hahn (Laugh Factory, 92.3 KOMP Las Vegas), Jo Weldon (NY School of Burlesque, Burlesque Hall of Fame, New York), Cha Cha Velour and Tiffany Carter (Las Vegas Burlesque Classes, Live Burlesque in Las Vegas), and Eric Sandoval (Chubby Surf, Shark Tank, Yard Crashers, California). 


The content-rich text and informative links will be transformative. With words and photos by Frankie Tease and contributing photos by featured artists' photographers, the collection in itself is a vacation getaway. The eBook is meant to inform the Vegas tourist, aspiring performer, or average reader, giving insight into places only an embedded columnist and photojournalist could take you. Some of the loftiest talents and destinations in the U.S. and world make up the 31 multi-page articles and interviews, approximately 98 pages and 50 beautiful hi-resolution quality photos. After you read Vol. 2, you'll be pining to catch up with the stars featured in Vol. 1 of this series (also just $3.99).

Other stories and columns included are: Jac Bowie (Australia), 12-12-12 Weddings, Rita Rudner (Venetian Las Vegas), Vegas on CBS, Viva Las Vegas 16 Rockabilly Weekender (Orleans Hotel Las Vegas), Si Cranstoun Album Review (England), Surf the Musical (Planet Hollywood Las Vegas), Blue Man Group (Monte Carlo Las Vegas), Tropicana Resort Makeover, Las Vegas Art (Contemporary Art Center Downtown), Las Vegas Comic Expo (Riviera Las Vegas), The Frankie Files, Tidbits and Teasers: The Neon Museum, Skyvue Observation Wheel, Vinyl at Hard Rock, Wet & Wild, Burlesque Hall of Fame Eminent Domain, also Labor Day Pool Getaways, Burlesque and Topless Show List of 2012, Photo Finish: Winter in Venice (Venetian Las Vegas), 3 Pool Guys (Golden Nugget Las Vegas), Melody Sweets (Absinthe at Ceaser's Palace Las Vegas), and Downtown Fremont Street LV. Enjoy this word and photo circus to stimulate your Inner Vegas.
Originally from Long Beach, CA, Frankie Tease (Examiner.com, Candy Pitch, Vegas Seven, Guardian Express LV, Frankie Tease Magazine, Tease Time, Hangover Helper, Pastie Parade) is now a columnist and photojournalist in Las Vegas since 9/11/11. She has been a writer since her college days in Pasadena, CA, in the 90's and started covering stage, comedy, and burlesque, in Portland, Oregon, in 2009 as an entertainment writer with her "How to Burlesque" column on Kelly Dinardo's blog. Frankie has  now published her first two ebooks The Best of Frankie Tease Magazine Vol. 1: Jan.-June 2012 and Vol.2: July-Dec. 2012, full of exclusive interviews, articles, photos, and events from the international city of Las Vegas. Her unique stage experience in performance, dance instruction, stage production, and radio allows her to get poignant interviews with spectacular stars who travel through or are resident headliners in Las Vegas. Enjoy her word and photo circus to stimulate your Inner Vegas.
###

author location: Las Vegas, Nevada
e-release dates: February / March 2013
eBook distributors: Amazon Kindle, iTunes iBookstore, Barnes and Noble Nook
eBook price: $1.99 website: FrankieTease.com
isbn: 9781626750722
© 2012, frankietease.com. All rights reserved. All content copyrighted or used with permission. This content may not be distributed, modified, reproduced in whole or in part without prior permission from frankietease.com.