Discover more from Frankie Tease
Cult Madness News, Frankie Files Podcast, Hot Takes of a Cult Kid Podcast, by Frankie Tease, writer & Morningland #LongBeachCult adult child survivor.
24 hr.Vegas Strip Club Opens Day Club "Sapphire Pool", Cinco De Mayo Wknd. 2013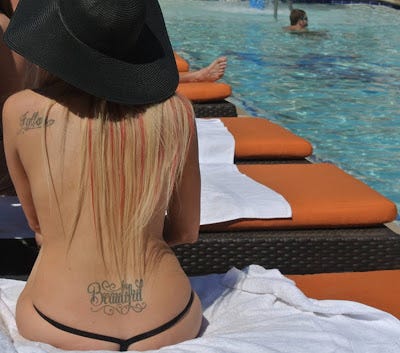 The largest topless strip club in the world just got larger, and it decided to go outside to expand. The club was 70,000 feet before and boasts topless dancers, and an all male review for the ladies in a separate showroom. It even has a comedy and variety show. Several stages, 400 entertainers and open 24 hours, many could ask how that could be improved. Enter the great outdoors. The $8 million day club is pretty swanky. The cabanas are lush and plenty. Comfort? Yes. Completely separate but visible VIP? Yes. On-site grill, tons of shower fountains and also lovely water falls mixed with a full bar and amazing service will obviously be one of the hottest new and lasting clubs in Las Vegas. The 800 capacity pool area will be a go-to spot, especially after the launch they have planned.
What sets it apart? Dancers are not necessarily doing lap dances, but they will be making new friends and lounging at the pool in their off times says Shai Cohen one of the organizers. Toplessly. Yes it's true this is a topless pool, but you must wear pasties. Some were available at the amenities booth. Look at the opening weekend activities Sapphire Pool and Day Club lined up for its official launch weekend.

Thursday May 2, 2013 is the Dance Appreciation Party. Free food and cocktails for all attending 1-5pm. DJ Scotty Boy, DJ Cassanova, vendors.

Friday May 3, 2013 is the DJ competition to become the $100,000 resident at Sapphire Pool and Day Club. Featuring: DJ Amie Rose (Playboy Playmate),  and Coleen Shannon (Playboy Playmate). Brande Roderick (Baywatch), Angelica  Bridges (Baywatch), Amber Smith (Sports Illustrated), Simon Rex (MTV) will host the competition run by DJ Hollywood.

Saturday May 4, 2013
Baywatch continues with Pamela Anderson added to the mix. But add in Adrian Grenier (Entourage), Coco (Ice-T Loves Coco, Peepshow), and Crystal Hefner (wife to Hugh) and stir as the mega-star outdoor launch party weekend series of events continues.

Sunday May 5, 2013 look out North Korea, Dennis Rodman belongs to Sapphire for a day. You know this will be explosive. DJ Vic Latino and DJ George Acosta will keep you jumpin' while FHM, Maxim, Baywatch gals Brande Roderick and Anglica Bridges take care of the on-hand beauty.

All days include poolside go-go dancers, sexy and sumptuous Sapphire entertainers. There were some really hot guys hanging out when I went. I wondered if they were part of the male revue.


3025 S. Industrial Rd. Las Vegas, NV. Sapphire Las Vegas has become 100,000 sq. ft. with the addition of the pool. It is open 24/7 to 21+ guests. 702 303 3430 for limo, reservations, or information. http://sapphirelasvegas.com, http://sapphirepoollv.com
PHOTO SET ON FLICKR

VIEW FRANKIE TEASE MAG'S VIDEO PREVIEW OF SAPPHIRE POOL AND DAY CLUB IN LAS VEGAS





Article and Photo by Frankie Tease
© 2012, frankietease.com. All rights reserved. All content copyrighted or used with permission. This content may not be distributed, modified, reproduced in whole or in part without prior permission from frankietease.com.