Frankie Files Podcast Looks Toward 2023
And how I barely survived the first year of podcasting
Well - like many people in 2022 I decided to start a podcast. Using the true crime genre to begin to discuss my cult survivor story publicly has been a great decision. But it's so complicated, with so many difficult moments, and a saturated market.
What to do. I got into this starting in 2022 to connect to the cult kids, tell my story and prepare to publish my memoir. It is a bear to decide to tell this story at all, coupling that with technical difficulties (when live etc.), a book market that is exploding with memoirs, and the expectation to cater to the psychologists selling hourly consultations has been a bit much to deal with. Sprinkle in the triggering of deciding to increase interviews and you have a genuine valcano building.
The good news, I made it to November from February in my first year as a cult and sexual abuse survivor who stepped out and spoke out. I made it through several interviews of my experience so it is no longer in a shadow in a cave to allow the doubt of its existence. It happened and my abusers are reacting online in subtle ways, confirming they are aware of my publicity. I connected with amazing people who are in this fight for all the right reasons too. This has been wonderful. So much support.
I decided there is zero shame in aspiring to make money writing, speaking, and recording about cult topics, journalism on the topic, and facilitating knowledge about what adults who grew up in cults go through daily, just to keep going in this world. In fact I will be talking more about that this year. It's all part of victim shaming. How dare we? But HBO and Netflix are making millions off of stories like mine, so where is the love guys? Let's get some of this straightened out, shall we?
As a non-fiction opinion and society commentary writer, I am doubling down on researched essays in 2023 for the bulk of Frankie Files Podcast. I feel the market is saturated with discussion of video documentaries and pscyhologists who interview experts and survivors, but rarely does the money end up in cult survivor's pockets trying to tell society what was missed that allowed this to happen. My survivor wisdom has been being listening to. Thank You for that, all.
This is not to say I don't love and listen to survivor testimonial report and interview podcasts and shows. I love Let's Talk About Sects (New Zealand) and The Cult Vault (UK) to name a couple. I am not sure how they do it! They handle so many variety of reports, it seems endless, and they do so with aplomb.
The fact is being a survivor who must dance around land mines has its limits. I have bumped into those all year, and my mother has been the main support in dealing with that. I am not sure I could be on this path without her and cannot imagine doing this alone.
The Live Reddit Talk events were Oct. Nov., Dec., and have now been concluded. I even got a prize from Reddit for doing the live audio chat events, and won a microphone and personalized jerzey for being in the listened to category or something. Yay. I may do future events on Twitter Spaces, to be determined.
However, I have that survivor knowledge which term I borrow here from Robert Jay Lifton. The survivor knowledge of a little girl who was trafficked into a new age religious cult 1974 to 1987, ending in the division of my family, physical, financial, emotional, sexual, labor abuse and the rendering of a high spirited young woman into an abused obedient shadow.
Getting the knowledge that this type of thing happens, pscyhological murder, abuse, which has life-long effects, is an activism worth my time. That is what I am committed to do. As the show grows and I work to tastefuly add sponsors and advertisers to enable me to spend the time needed on this work, I wish to thank those supporters, readers, donaters, subscribers, sharers, listeners, corresponders, and ex-Morninglanders who have been supportive in 2022. Every single inch of support you have given me is what I am standing on.
There is a reason we wish to keep silent; It's painful and puts people like me in a vulnerable position socially and publicly. But if my actions effect future generations to spot and stop coercive control before it destroys their set of people, than it is worth it to me. That is one of those things I want to contribute to, ongoing. Thank You for your support in 2022. I appreciate the love.
Please put comments below here or on our social media to be read on Frankie Files Podcast opening episode in February of 2022.
Thank You for your understanding as I learn what the right direction is for this show going forward, and find a balance of staying healthy so I can do what I am doing.
May 2023 bring us new coercion laws in the United States, more trafficking prevention for kids, a renewed activism to protect the children in society from cults and dangerous propaganda, and may you and yours stay healthy into the new year and beyond. Keep critical thinking.
New! Get your Frankie Files Podcast merchandise!
https://www.redbubble.com/people/FrankieTease/shop
(*note seal (frankietease) is not printed on final product but is a copyright feature)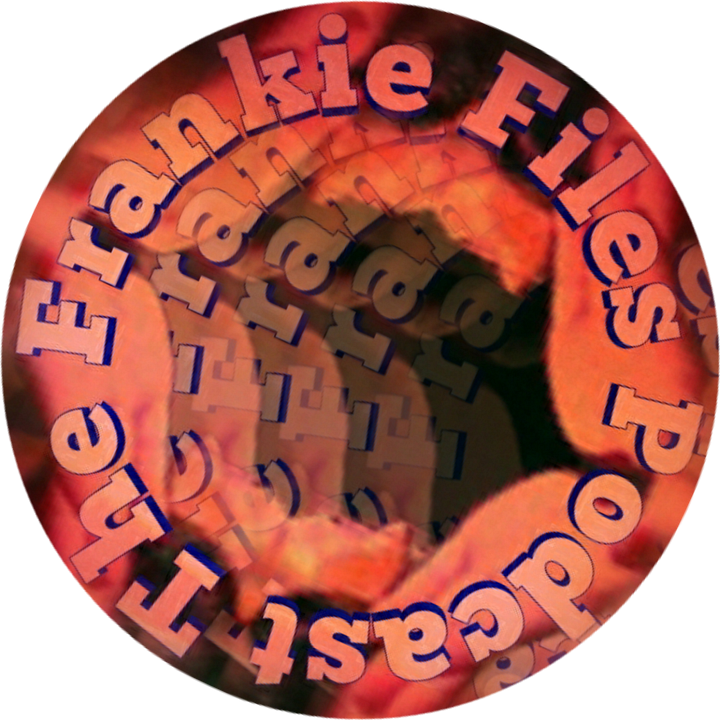 Listen on Spotify Now Here
Spotify iHeart Radio Apple Podcasts Youtube Audible